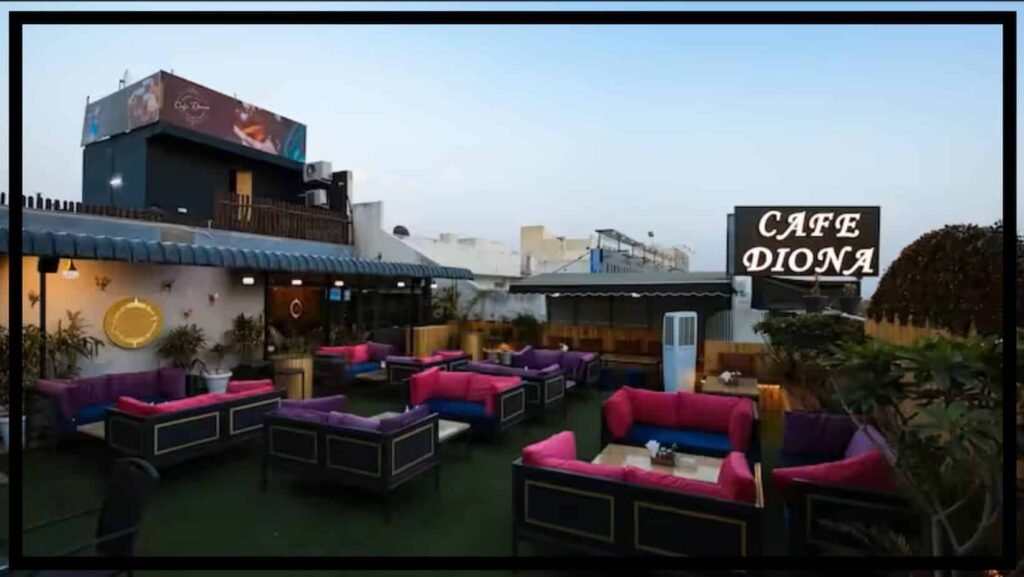 Diona Jaipur – menu, fees, address, contact number, reviews
Diona Jaipur is a popular restaurant in Jaipur, It is located at The Grand Anukampa, Elevated Ajmer Rd, Exit, Jaipur, Rajasthan. Here you will find the bar, music, indoor seating, smoking area, and dance floor.
Cost for Two People in Diona Jaipur
In Diona Jaipur the Average Cost is ₹2,500 for two people (approx.) Without alcohol and ₹220 for a pint of beer (approx.)
Exclusive of applicable taxes and charges, if any.
In Diona Jaipur you can do payments through Cash and Cards and Digital payments accepted
More Info about Diona Jaipur
Takeaway Available
Full Bar Available
Serves Cocktails
Table reservation required
Smoking Area
Desserts and Bakes
Nightlife
Indoor Seating
Rooftop
Live Entertainment
Craft Beer
Live Music
Diona Jaipur Menu
SOUPS & SALAD
Price
Tomato and Basil

Peeled Tomatoes, Garlic, Basil, Toast

320
Roasted Mushroom Cream

Burnt Garlic, Sour Dough Crostini, Truffle Oil

330
Burmese Khow Suey

Coconut Milk, Yellow Curry Paste, Curry Powder

490
Burmese Khow Suey Chicken

Coconut Milk, Yellow Curry Paste, Curry Powder with chicken

550
Som Tam

Raw Papaya, Jaggery, Lime, Peanuts, Cherry Tomatoes

350
Sun-dried Tomato and Burrata Salad

Pesto, Olive Oil, Pine Nuts, Rocket Leaves

450
BAR NIBBLES
Price
Roasted Papad with Kachumbar

Roasted papad with separate Masala

200
Gunpowder Fries

Podi Masala, Sambhar Aioli

270
Onion Rings

Panko Crusted, Smoked Tomato Relish, Cheddar Cheese Spread

290
Classic Peanut Masala

The all time favorite spicy and Tangy bar snack

275
Thai Peanut Masala

Thai Herbs, Coconut Milk, Tamarind Pulp, Fried Onions

340
Home Made Nachos

Guacamole, Sour Cream, Salsa, Cheese Melt

350
Citric Fish Fingers

Lemon Seasoning, Panko Crusted, Cranberry Sauce

400
Sweet and Sour Chicken Popcorn

Small Chicken Chunks, Sweet Chili, Vinegar, Garlic

350
APPETIZERS
Price
Kacche Kele Ki Galouti

Raw Banana, Sheermal, Saffron, Spices

390
Crispy Lotus Stem

Lotus Stem, Home Made Chili Paste, Veg Aromat, Garlic

390
Paneer Tikka

Cottage Cheese, Red Marination, Capsicum, Onion, Tomato

420
Crispy Asian Ball

Beans, Carrot, Mushroom, Noodles, Peanut Sauce

420
Shiitake on Toast

Shiitake Mushroom Ciabatta, Togarashi Powder

450
Crispy Spinach and Corn Kebab

Smoked Tomato and Pepper Chutney, Parmesan Cheese

400
Crispy Dahi Cigars

Hung Curd, Onion, Ginger, Red Pepper Chutney

400
Crispy Corn Curd

Served with Sweet Chili Sauce

400
Spinach and Ricotta Buns

Served with Dal Makhani Fondue

450
Mezze Platter

Falafel, Hummus, Pita, Tzatziki

550
Delhi Style Soya Chaap

Fried Soya Chaap, Red Marination, Cream, Butter, Seasoning

420
Assorted Veg Platter

Galouti, Paneer Tikka, Asian Balls, Shiitake on Toast. Crispy Dahi Cigars

1000
Togarashi Dusted Crispy Lamb

Togarashi Powder, Apple, and Betel Leaf Tartre

490
Trio of Chicken Tikka

Laksa Curry, Truttle Parmesan, Deggi Mirch

450
Fire Chicken Lolly Pop

Home-Made Spicy Sauce, Blue Cheese Ranch

450
Mutton Keema with Pav

Mutton Mince. Onions, Green Chili, Spices. Masala Pao

470
Tawa Murgh Kulfi

Double Processed Chicken Mince, Veggies, Olive Gud Chutney

470
Crunchy Achari Anda Sliders

Baked Omelette, Achari Tartare, Lettuce, Mini Buns

380
Tandoori Murgh Chettinad Tangri

Chicken Drumsticks, Chettinad Marination, Mint Sauce

490
Pathar-Ka-Gosht

Beaten Mutton, Garam Masala. Spicy Marination

550
Prawn Rock and Roll

Tempura Prawn. Spicy Mayo, Fried

550
Pulled Jungli Maas

Slider Slow Cooked Lamb, Lettuce, Indian Spices

550
Assorted Non-Veg Platter

Chicken Tikka, Pathar-ka-Ghost, Prawn Rock and Roll Murgh Kulfi, Anda Slider

1200
Sriracha Golden Prawns

Tempura Fried Prawns. Seasoning, Sriracha Mayo

450
DIMSUMS & BAO
Price
Leeks and Water-chestnut

Beans, Looks. Water Chestnuts, Thai Red Chil, Potato Starch

450
Wild Mushroom Truffle Bao

Sautéed Mushroom, Bok Choy, Dark Soy, Truffle Oil

450
Pan Seared Aubergine Dimsum

Roasted Aubergine, Beans. Sesame oil

450
Shanghai Chicken Dimsum

Chicken Mince, Light Soy, Aromat Seasoning, Potato Starch

480
Prawn Sui Mai

Prawns, Asparagus, Wonton Sheet Sesame oil

480
Chili Chicken Bao

Diced Chicken Chili Paste, Refined Flour

480
Teriyaki Glazed Chicken Bao

Home Made Teriyaki Sauce, Garlic, Chicken, Asian Greens

490
Assorted Dimsum and Bao Platter

A Selection of Vegetarian Dim-sums and Bao

1000
Assorted Dimsum and Bao Platter

A Selection of Non-vegetarian Dim-sums and Bao

1200
SUSHI
Price
Veg California Maki

Cucumber, Carrot, Daikon, Tempura Avocado, Wesabı Mayo

550
Imperial Roll

Tempura Vegetable, Spicy Mayo, Rice Paper Sheet

550
Dragon Roll

Tempura Prawns, Carrot. Crab-sticks, Avocado

550
Avocado Mango Roll

Avocado, Mango Salsa, Wasabi Fire Sauce

550
Salmon Roll

Salmon, Asparagus. Tempura, Spicy Mayo

650
Chicken Teriyaki Roll

Chicken Supreme, Teriyaki Glaze, Bell Peppers, Lettuce

600
Assorted Sushi Platter Veg

A Selection of Vegetarian Sushi

1000
Assorted Sushi Platter Non-veg

A Selection of Non-vegetarian Sushi

1200
ASIAN MAINS
Price
Choose your Pasta and Sauce

Penne, Fettucine, Spaghetti Arrabiata, Alfredo, Basil Pesto, Parma Rossa

450
Meat Ball Spaghetti

Mutton Mince, Herbs, Tomato Sauce, Olives

550
Thai Curry

Red or Green Thai Curry

450
Thai Curry Chicken

Red or Green Thai Curry

450
Tofu Panang Curry

Tofu Balls, Panko, Cottage Cheese, Parmesan Crisp

550
Asian Greens in Garlic Sauce

Chinese Cabbage. Pokchol, Broccoli Beans, Hot Garlic Sauce

520
Khao Pad Kra Prao

Thai Chili Paste Basil, Jasmine Rice, Garlic, Sichuan Pepper

420
Hakka Noodles
350
Pad Thai Noodles

Flat Noodles, Asian Greens, Sesame oil Peanuts

390
Jasmine Rice
340
PIZZA
Price
Margherita

Marinara Sauce with Mozzarella and Sun-dried Tomatoes

420
Cottage Cheese Picante

Basil, Onion, Spicy Tomato Sauce, Fresh Mozzarella

450
Farm House

Zucchini, Peppers, Mushroom, Broccoli Com, Jalapenos

450
Five Cheese Pizza

Mozzarella, Cream Cheese, Blue Cheese, Ricotta, Cheddar

470
Lamb Pepperoni Pizza

Lamb Pepperoni, Jalapenos, Spicy Sauce, Herb Oil

520
BBQ Chicken Pizza

Scared Chicken, Barbeque Sauce Marinara

520
Tandoori Chicken Pizza

Chicken Tikka, Pickled Onion, Mint Mayo

520
Double Meat Margherita Mutton Mince, Chicken Chunks, Herbs, Jalapeno
520
May You like this: Blackout Jaipur
INDIAN MAINS
Price
Panko Crusted Malai Kofta
450
Paneer Butter Masala
450
Paneer Lababdar
450
Paneer Tikka Masala
450
Stuffed Dum Aloo
400
Veg Jalfrezi
450
Butter Chicken
550
Home-Style Chicken Curry
550
Laal Maas
600
Mutton Rogan Josh
600
Dal Makhani
400
Dal Tadka/Fry
350
BREADS & STAPLES
Price
Tandoori Roti
50
Butter Roti
60
Butter Naan
100
Garlic Naan
100
Cheese Chili Garlic Naan
150
Lachha Paratha
100
Cheese Olive kulcha
160
Missi Roti
80
Steamed Rice
250
Jeera Rice
270
Veg Dum Biryani
400
DESSERTS
Price
Kulfi Popsicle Falooda

Home Made Kulti, Rose Syrup, Tutti Frutil, Flavored Milk

450
Hakka Noodles Sweet and Young Coconut Platter

White Pepper & Coconut Ice Cream, Coconut Jelly, Tender Coconut

450
Biscoff Cheese Cake

Lotus Biscoff, Cream Cheese, Caramel

450
Tiramisu

Savolardi, Mascarpone Cheese, Coffee Cocoa

450
Textures of Brownie

Walnut Brownie, Ice Cream, Crumble, Brownie Thins

450
Darsan Noodles

Fried Spring Roll Sheet Honey Sesame Seed, Vanilla Ice Cream

450
Drinks & Softdrinks
Price
Aerated Drinks
Rs 110
Tonic Water
Rs 130
Ginger Ale
Rs 130
Soda
Rs 100
Red Bull
Rs 220
Packaged Juice
Rs 110
Fresh Lime Soda
Rs 120
Bottled Water
On MRP
Cocktails
Price
Cocomelon High
Watermelon juice. Coconut Milk. Triple See
Rs 290
Lemongrass Jasmin
Lemongrass, Katir Lime, Pineapple Juice, Iime
Rs 270
Peach Iced Tea
Rs 260
Lemon Iced Tea
Rs 250
Spicy Guava
Spices, Lime Juice, Guava Juice
Rs 240
Pineberrygum
Blueberry Crush, Pineapple Juice, Bubble Gum, Lime Juice
Rs 240
Virgin Mojito
Mint, Lime, Sprite
Rs 240
Shakes
Price
Nutella Kit-Kat
Rs 280
Dates Banana Caramel
Rs 270
Choco Peanut Butter
Rs 270
Orco Shake
Rs 260
Blueberry Shake
Rs 280
Cadbury Shake
Rs 270
Frappe
Price
Cafe Frappe
Rs 210
Chocochip Frappe
Rs 220
Unique Frappuccino
Rs 250
Banana Caramel
Rs 240
Coffee
Price
Hot Chocolate
Espresso
Cafe Latte
Americano
Cappuccino (Ask for Flavour)
(Vanilla, Irish. Hazelnut. Caramel, Cinnamon, Chocolate)
Note*: GOVT. TAXES EXTRA AS APPLICABLE WE LEVY 7.5% SERVICE CHARGE EXTRA
Opening and Closing times of Diona Jaipur
| | |
| --- | --- |
| Monday | 9:00 am - 9:00 pm |
| Tuesday | 9:00 am - 9:00 pm |
| Wednesday | 9:00 am - 9:00 pm |
| Thursday | 9:00 am - 9:00 pm |
| Friday | 9:00 am - 9:00 pm |
| Saturday | 9:00 am - 9:00 pm |
| Sunday | 9:00 am - 9:00 pm |
Also Read: Best Restaurants in Jaipur
Other Website Reviews and Ratings for Diona Jaipur
Website

ratings

Google

4,0

334 Reviews

Zomato

3,5

243 Reviews

Facebook

No Reviews

Restaurant guru

No Reviews

Dineout

2.9 Rating

Justdial
If you like this article on Diona Jaipur then share it with your friends and family members to appreciate our works and help them.
Note*: All the above information for Diona Jaipur is collected from various sources on the internet. The price may be different, please re-verify before going to Diona Jaipur.
Contact Information
The Grand Anukampa, Elevated Ajmer Rd, Exit, Jaipur, Rajasthan
Diona Jaipur – menu, fees, address, contact number, reviews
0 reviews
Write Your Review
There are no reviews yet.