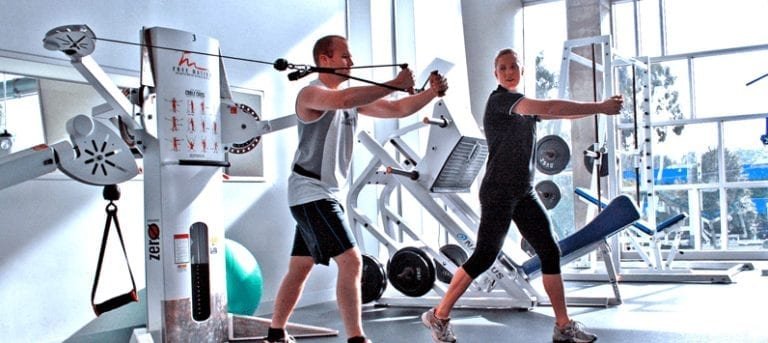 List of Best Gyms in Jaipur
What are the benefits of joining a gyms in Jaipur?
Most people go to the Gyms in Jaipur and make a New Year's resolution to get their fat cells out, but the sad part is that as this resolution gets older, the excitement starts to fade. If you know how beneficial gyming is to your body, by the end of the year your New Year's resolution will be strong.
How Jaipurchalo.com can help you choose the best gyms?
You can find the gym in Jaipur based on its location, popularity, rating, and reviews on JaipurChalo.com. In Future you can get the best offers from a business listed with Jaipurchallo.com.
Why should you join the gyms?
Connecting with any gym is very beneficial for your overall health. Mentioned below are some reasons why you should join a gym for your better health:
1. Innumerable health benefits
Goes without saying, exercising has a lot of health benefits. When you exercise, you improve the fitness of your heart by strengthening your heart as well as your lung muscles. Experts say that to keep your heart and lungs healthy one should exercise at least 5 hours a week. Ideally, these 5 hours should also include muscle training exercises a week, which should be done at least twice a week.
2. proper equipment
Many people think that replacing dumbbells with bottles of water can easily qualify for a good workout. Honestly, such exercises are not as effective as training people using gym equipment. Nowadays all the gyms in Jaipur are well stocked with the latest equipment that best helps in classroom experiences when it exercises and sheds its excess weight.
3. fitness routine
Many people say that once you start hitting the gym, you will actually be able to hang it, not only that after your membership expires, you will literally quit doing workouts. Also, another major reason that you will definitely go to the gym is to establish a healthy workout routine. Since you have actually paid off your gym membership using your hard-earned money, don't put any kind of salt on your wounds and push yourself to work out as often as possible.
4. Increases your strength and endurance
The best you can do is quit exercising, after losing that unwanted fat, build your endurance level and stamina. Experts suggest that doing workouts releases a hormone called endorphins in your body. Honestly, there is no better way to exercise and leave the gym, all feel energetic.
.
How often should you exercise in the gym?
Beginners, as well as athletes, must do gym regularly to get the best results. Experts suggest that doing workouts in the gym three to four times a week is a great way to see the best possible results. It is important to note that you should decide on a religious day comfortably between two workout days. This means, making sure that you take a day off after two consecutive days of strength training.
How much do Jaipur gyms charge as their membership fees?
Gyms in Jaipur offer membership on a monthly, quarterly, half-yearly, and yearly basis. Nowadays, you can also pay for a test trip to the gym before deciding to get a full membership. Gym membership rates vary on a lot of grounds. If you also employ the services of a personal trainer while taking your membership, you will receive more money. Mentioned below is a tabulated version of the prices estimated by the gym as their membership fees.
Rates for Gyms in Jaipur
| Type of membership at the gym in Jaipur | Estimated fee charged in Jaipur Gyms |
| --- | --- |
| Trial Fee | Free or Rs. 250 to 500 per session |
| Monthly Fee | Rs. 1500 to Rs. 5,000 |
| Quarterly fee | Rs. 6000 to Rs. 9000 |
| Half Yearly Fee | Rs. 8000 to Rs. 12000 |
| Yearly Fee | Rs. 15000 to Rs. 40000 |
Please note: In the above-given Table, you can get all the Rates of Gyms in Jaipur With Full details. The above values vary from one gym to another and are highly suggestive. They are not included in any additional features, such as personal trainers, diet charts, etc.
How can Jaipurchalo.com help you with the best gyms in Jaipur city?
The best way to increase your energy levels and stamina is to join a gym and work out. JaipurChalo.com can help you find the best possible gym at the tip of your finger at your convenience.
The following is a list of things that you should check before selecting a public Gyms in Jaipur
(1). Check reviews and ratings posted by people.
(2). Get a detailed list of facilities offered in a gym.
(3). Check the distance from your location to the Gym.
(4). Get their contact details and address.
(5). Check their operating hours and other facilities available.
Jaipurchalo.com helps you get the above information and website as well as much more. In addition, you can search for gyms based on location, popularity, ratings, and reviews.
Gyms listings on Jaipurchalo.com. JaipurChalo.com is a portal to find the best, free, reliable, and most comprehensive information about Gyms in Jaipur on JaipurChalo.com with Verified data and details. Best Gyms at Jaipur, Gyms Rates, Speciality of Gyms, Services & Facilities in Gyms, Top 13 Best Gyms in Jaipur.
Frequently Asked Questions on Jaipur Gyms
Ques1. What type of membership schemes are there in Jaipur Gym?
Jaipur gyms offer you monthly, quarterly, half-yearly and annual membership options.
Ques2. What are the different types of fitness classes gyms offer?
In addition to gym classes, you get Zumba, Pilates, Kickboxing, Yoga, and other fitness classes. Please inquire with Jim about these facilities.
Ques3. Will I get a personal trainer with my standard membership in Jaipur Gyms?
No, you are not. All gyms offer you a personal trainer facility at an additional charge.
Ques4. Does the gym have a shower and a sauna?
Not all gyms provide you with a shower or sauna. Please contact Jim and ask about them before joining.
Ques5. What is the cost of gym membership in Jaipur?
The estimated gym membership cost in Jaipur goes from Rs. 4,500 to Rs. 6,000 for a quarter, Rs. 8,000 to Rs. 12, 000 for six months and Rs. 18,000 to Rs. 22, 000+ for one year.
Must Read: Best Hospitals in Jaipur