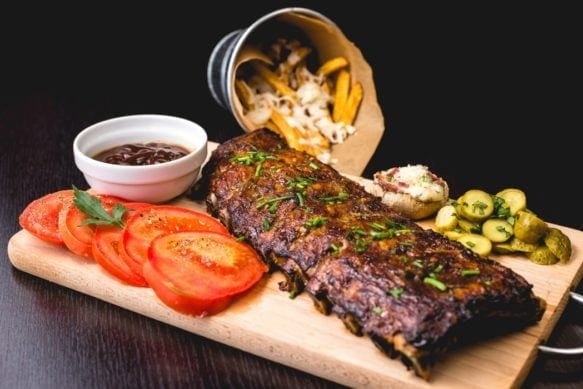 Best Non veg restaurants in jaipur
List of nearest Non Veg Restaurants in Jaipur
About Best non veg restaurants in jaipur Nearby you
Rajasthan is a land of Majestic forts, golden deserts, music, art, colors challenging the paleness of heat. This place is not only about heavy lehenga and jewelry. Where women are celebrating Ghoomer, art, and craft and in terms of food you can't imagine Dal, Bati, Churma. You can serve your taste buds while there are some delectable non-vegetarian dishes that can make anyone drool over instantly.
Here your journey begins with an enchanting gastronomical journey, You explore what cooks in the kitchens of desert land- Rajasthan of non veg restaurants in jaipur.
Laal Maas
Laal Maas is the first non-veg thing on the list. When we are talking about Rajasthani cuisine and skip this amazing red mutton dish then it will be unfair with this wonderful dish. This hot mutton dish gets its red color from the red hot chilies and is rich in garlic. A person who can't handle spicy food should not try this dish as it can set your taste buds on fire. You can try it with Bajra Rotis or even with rice.
Macchhilli Jaisamandi
When you are over with tasting this amazing mutton delicacy then you can try some fish dish such as Macchhilli Jaisamandi. This dish is prepared after fish is cut and marinated in green chutney. Further, it cooked in a spicy gravy comprising ginger, garlic, coriander, and mint leaves. This dish is garnished with mint leaves and ginger juliennes that lend a freshness to the dish. You can try it with hot steaming rice.
Safed Maas
Safed Maas is the best version of a Korma. This is called Lamb Korma and available in most of Rajasthani homes. Meat is cooked in a mixture of spices like onion, garlic, ginger, pepper, and cardamom with white creamy sauce. If you are judging it by its plain white color because this is extremely rich and flavored chicken.
Mohan Maas
Moham Maas is for all those people who are a fan of bland. This is the best dish for all the non-vegetarians who love rich food. Mohan maas is a royal dish from the royal kitchen. It is cooked in milk and mild spices that make the meat tender and juicy. This dish is prepared in the flavor from Khus-Khus, cardamom, and lemon.

Banjara Gosht
Banjaara Ghost is an authentic Rajasthani flavor that is infused into juicy mutton pieces. It is prepared when the meat is marinated in garlic, red chilies, turmeric, and coriander. Further, it got cooked and it gets its taste when coriander garnished on it.
Top non-veg restaurants in Jaipur to try
1. Sethi kebabs & curry is famous for Butter chicken.
2. The Kathi Roll junction is famous for Delicious shawarma Rolls.
3. Get the best Kadhai Chicken at DCT TADKA.
4. Try Chicken Lollipop at OTB(On the Bar).
5. For Dhaba Chicken, you can go to ChinaTown.
6. Chicken Manchurian is best at Sethi kebabs and Curry.
There are so many more sumptuous dishes that will leave a lingering taste such as Khad Khargosh, Khargosh ki Mokal, Kaleji Ka Raita. When you visit Jaipur then don't forget to taste all the dishes.
If you Like this article on is Best Non Veg restaurants in jaipur Please Share to you Freinds and Family to help Them.
Must Read: Best Rajasthani Food in Jaipur