Dance and Folk music shows In Jaipur
The Jaipur is of rich folk culture that attracts spectators from all over the world. There are various tourist destinations in Rajasthan and Jaipur is one of the most sought after places. Jaipur is a window of Rajasthani culture prevailing across the state. Visitors get all the shades of the colorful Rajasthani culture in this capital city.  You can enjoy Folk music and dance shows in Jaipur. These are the common phenomenon and are a must-watch.
Dance and Folk music shows In Jaipur RAJASTHAN
(1) Ghoomar Dance in Jaipur Rajasthan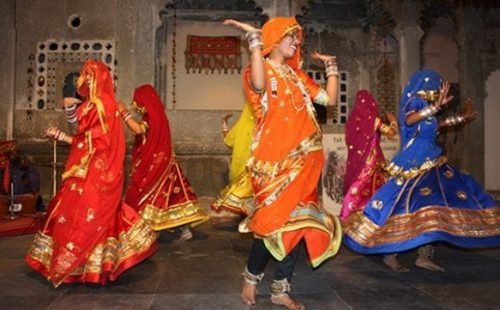 Ghoomar is a traditional folk dance of Rajasthan that gained popularity in each and every section of India. Initially, the Bhil tribe used to perform it to worship Ghoomar is chiefly performed by veiled women who wear flowing dresses called Ghaghara.
 
Jaipur, Rajasthan  
(2) Kalbeliya Dance Jaipur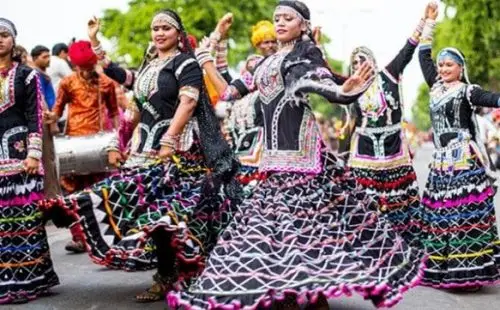 Kalbelia is one of the most erotic move types of Rajasthan. It is performed by a tribe of the same name. These tribes are famous for their dance. Kalbelia is an integral part of their culture. Men and women participate in this dance to celebrate joyful occasions. You will get to know about the different cultures of Jaipur.
 
Jaipur, Rajasthan  
(3) Bhavai Dance in Jaipur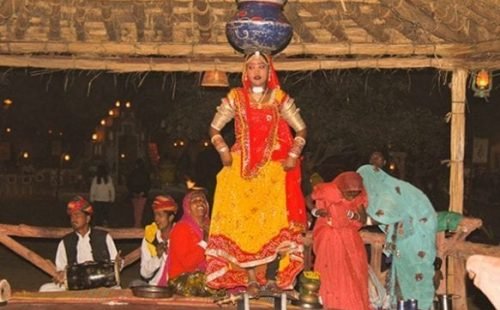 Bhavai is a genre of folk dance. These dance forms are popular in the Rajasthan state in western India. In these dance forms, we got both male or female performers to balance a number of earthen pots or brass pitchers. They used to dance nimbly, pirouetting and then swaying with the soles of their feet perched on the top of a glass. While they also used to do on the edge of the sword or on the rim of a brass thali during the performance.
Address of Chokhidhani:- Sukhdeopura Nohara, Jaipur, Rajasthan
Chokhi Dhani Jaipur, Rajasthan  
(4) Kathputli Dance in Jaipur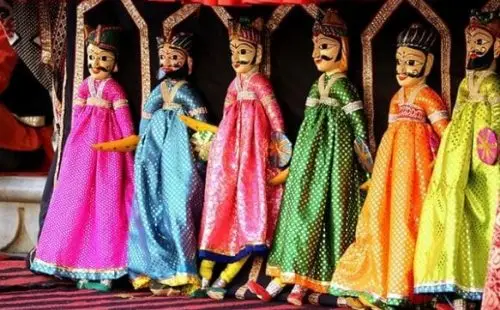 Kathputli is an ancient and popular form of folk entertainment in Rajasthan. This dance form is used for both entertainment and education. All these colorful puppets are made out of wood, cotton cloth, and metal wire, controlled by the strings attached to it.
 
Jaipur, Rajasthan  
(5) Kachchhi Ghodi in Jaipur Rajasthan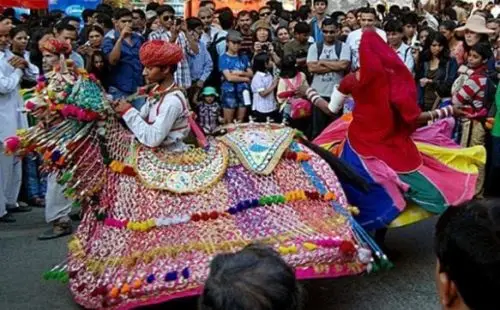 Kachhi Ghodi or Kachhi Gori is an Indian folk dance. These dance forms have since been adopted and performed throughout the rest of the country. These artists used to wear oddity horse outfits and take an interest in mock battles. A singer narrates folk tales about local bandits. This dance form is commonly performed during wedding ceremonies to welcome and entertain the bridegroom's party.
 
Jaipur, Rajasthan  
(6) Gair Dance in Jaipur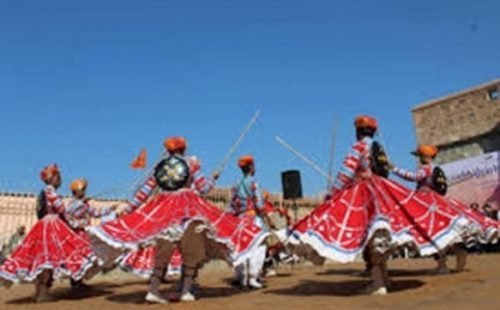 This is one of the famous folk dances from Rajasthan in India. Gair is mostly performed by the Bhil community. In this dance form, the dancers used to dance in a big circle with wooden sticks in their hands. This is a pleasing dance form that is performed by both men and women. Where men wear long, pleated tunics that open out into full-length skirts. Both men and women dance together in traditional costumes.
 
Jaipur, Rajasthan  
(7) Chari Dance in jaipur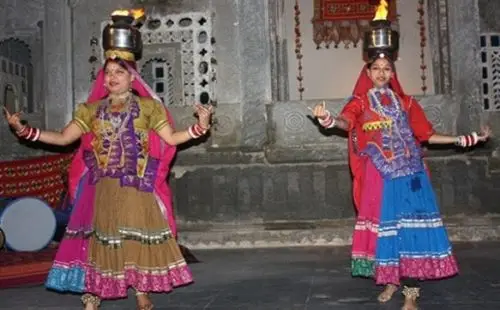 Chari move is one of the famous society moves that portrays the specialty of gathering water in a pot by the Rajasthani ladies in their everyday life. Rajasthani women travel miles to collect water for their families. The joy is reflected through this Chari dance. The Chari dance is performed by groups of dancers. The women hold pots on their head and a lighted lamp is then placed in the pot.

 
Jaipur, Rajasthan  
May you Like this:- Night Clubs in Jaipur
(8) Chang Dance Show in Jaipur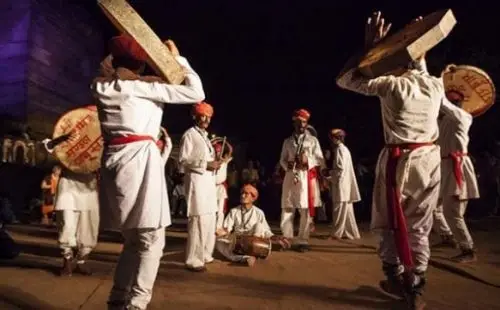 Chang dance is known as 'Dhamal' where dancers perform fast-paced steps to the rhythm of Chang. Chang is a unique instrument like a tambourine. This dance form is an enthusiastic folk dance performance. The principal fragment is holding in festivities of the Holi Festival in Rajasthan men wearing conventional ladies ensembles sing, move and do the Ghoomar party that catches the watchers.
 
Jaipur, Rajasthan  
(9) Sound and Light Show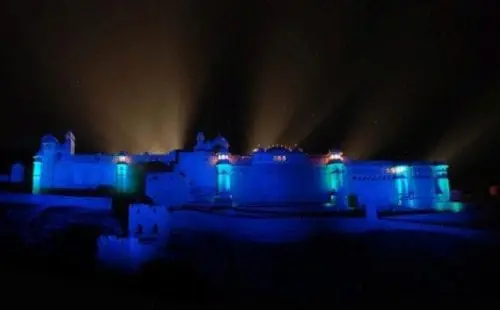 The sound and light show at Amber Fort is a radiant endeavor.. This is the best way to revive the pride, history, and traditions of Amber. The light show highlights the local legends, folklore, and celebrates the maestros of folk music. The show at the Amber Fort has a brilliant view of Amber Fort & Palace Complex in the front, the rising Jaigarh on the left, and magnificent hills behind it. Click here for more Detail.
 
Amer Fort Jaipur, Rajasthan  
If you like this article on Dance and Folk music shows In Jaipur then share it with your friends and family members.