Jaipur Metro Route Map Guide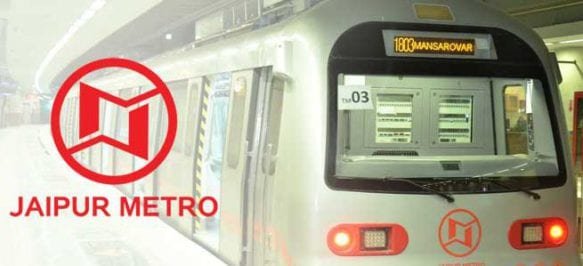 Jaipur metro system could be a mass rapid transit system within the town of Jaipur, Rajasthan, India. Construction on the foremost elevated a part of the primary line, referred to as section 1A, comprising nine.63 kilometers (5.98 mi) of the route from Mansarovar to Chandpole Bazaar, started on thirteen November 2010. when receiving safety clearance from Commissioner of railway system Rail Safety (CMRS) in might 2015, Jaipur railway system began business service between Chandpole and Mansarovar on three June 2015. The Jaipur railway system Rail system is India's sixth railway system rail system when those in Calcutta, Delhi NCR, Bangalore, Gurgaon,– and Bombay. it's additionally touted united of the quickest designed railway system systems in the Asian countries. Jaipur railway system is that the 1st railway system in the Asian countries to run on Double-storey elevated road and railway system track. Here you can also get full Information about Jaipur metro map
Some information about Jaipur Metro
| Owner | Serving Cities | Number of Lines | Headquarters | Started Operations in | Daily Timings | Fare |
| --- | --- | --- | --- | --- | --- | --- |
| Jaipur Metro Rail Corporation Ltd. | Jaipur | 1 (2 planned in total) | C-Scheme | 2015 | 6:00 am to 9:45 pm | ₹6–18 |
Metro Stations in pink Line - Jaipur metro map
(1)

Mansarovar Metro Station

(2)

New Aatish Market Metro Station
(3)

Vivek Vihar Metro Station

(4)

Shayam Nagar Metro Station

(5)

Ram Nagar Metro Station

(6)

Civil Line Metro Station

(7)

Jaipur Railway Station Metro Station

(8)

Sindhi Camp Bus Stand Metro Station

(9)

Chandpole Metro Station

Jaipur Metro Fares - Jaipur metro map
The Jaipur Railway Administration approved the fare structure and related regulations to be applicable on and from the initial opening of Jaipur Metro Operations, and midterm Corrected Fare were notified vide notification under reference dated 29.06.2018 as under
For the Store Value Card users, the Shown in the fare Matrix Tables Shall be subject to following discount.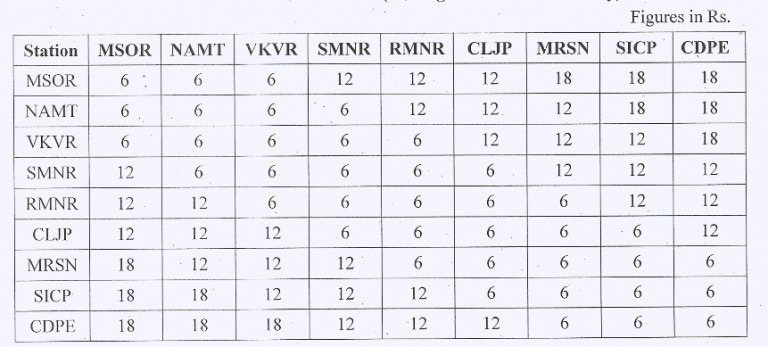 Jaipur Metro train Time Table - Jaipur metro map
Ready reckoner to workout the departure time at enroute Metro Stations, considering the originating trains from Mansarovar and Chandpole Station: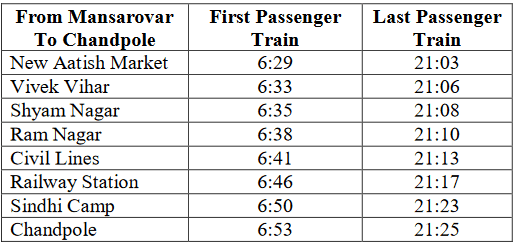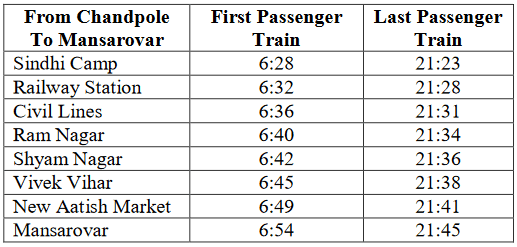 Jaipur Metro Contact Numbers
Here all the Contact Detail Information of Jaipur Metro Station like Number, Emergency Number, Email id, station Controller number  and station name.
Beginning services on June month 3, 2015, the Pink Line of Jaipur underground is presently the sole operational line on the system. it's a southwest-northeast route, the measure simply over nine.5 km; there area unit 9 stations on the road. railway (1435 mm) tracks and 25 kV AC via overhead wires area unit used on the road. The trains comprise four coaches, and that they travel at most speed of eighty km/h. throughout peak hours, the trains run at a frequency of ten minutes, which decreases to fifteen minutes throughout the non-peak hours.
Top Attractions Places Connected by Pink Line
| Attraction | Nearest Station | Distance from Nearest Station (Km) |
| --- | --- | --- |
| Jantar Mantar | Chandpole | 1.8 |
| City Palace | Chandpole | 1.7 |
| Hawa Mahal | Chandpole | 2 |
| Johri Bazaar | Chandpole | 2.3 |
| Nehru Bazaar | Chandpole | 1.8 |
| Bapu Bazaar | Chandpole | 2.2 |
| Albert Hall Museum | Chandpole | 2.6 |
| Jaipur Zoo | Chandpole | 2.3 |
| Nahargarh  Fort | Chandpole | 3.2 |
| BM Birla Planetarium | Sindhi Camp | 2.5 |
| Amrapali Museum | Sindhi Camp | 1 |
| Sawai Mansingh Stadium | Ram Nagar | 3.6 |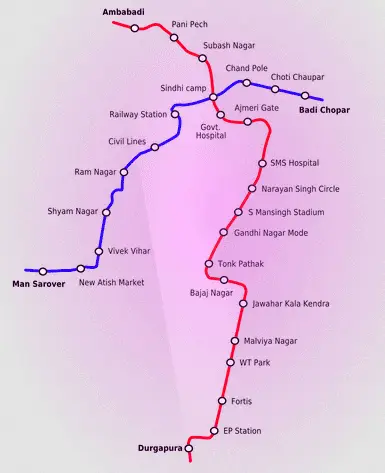 Jaipur Metro Project and Construction Details
The Jaipur Metro Rail project is being executed by the Delhi Metro Rail Corporation (DMRC). The project is being implemented in phases in the East-West and North-South corridors. The first phase of the project consists of a 12.06 km long East-West corridor running from Mansarovar to Badi Chaupar.
The corridor consists of two sections, East West-A (EW-A) from Mansarovar to Chandpol and East West-B (EW-B) Chandpol to Badi Chaupar. This includes the construction of 2.78 km of underground blocks and 9.27 km of elevated sections. Eight elevated stations and three underground stations have been built under the first phase.
The second phase will cover the 23 km long North-South corridor from Sitapura Industrial Area to Ambabari. The corridor will consist of 5 km underground and an 18 km elevated section. The second phase will require the construction of five underground stations and 15 elevated stations.
Phase I is being developed in Engineering, Procurement, and Construction (EPC) mode, while Phase II will be developed on Public-Private Partnership (PPP) basis.
Construction began on the EW-A section in November 2010 and commercial operations are scheduled to begin in June 2013. The EW-B and North-South corridors are expected to be operational from Last month of March 2017.
Jaipur Metro Rail Stations Passenger Amenities
Underground and elevated stations provide a variety of facilities for passengers using Jaipur Metro Rail services. The stations are equipped with escalators and ramp facilities, shopping areas and recreation places. Passengers can reach the stations using feeder bus services. Each station also provides parking facilities for passengers.
Rolling Stock for Jaipur Metro
Bharat Earth Movers Limited (BEML) was awarded a INR3.18bn ($ 57m) contract in December 2011 to deliver ten four-car train-sets for Phase 1 of Jaipur Metro. The first train-set was launched in April 2013 at BEML's factory in Bangalore. It is the first indigenously built and electric multiple units by an Indian company.
BEML's electric multiple units are offered in two configurations, including a driving trailer (DT) car and a motor (M) car. The four-car train structure consists of two DT cars and two M cars. The DT car can carry 361 passengers, while an M car can seat 392 employees. Each train, using a 25kV AC single phase 50 Hz supply voltage, can run at a maximum operating speed of 80km / h.
Contractors associated with Jaipur Metro Rail Project
The DMRC issued a request in March 2011 to issue quotations (RFQ) for shortlisting companies for PPP mode. In January 2012, four consortiums including Gammon Infrastructure – Irridium, Soma-ICF, Reliance Infrastructure, and Essar Projects-Samsung CNT were selected for participation in January 2012. Request for Proposal (RFP) process. In April 2012 Alstom was awarded the contract by the DMRC to supply the Urablis train control system for the EW-A section of the new Jaipur Metro Phase I. Alstom is responsible for the entire train control, design, production, installation, testing and commissioning of traffic. Management and signaling systems under contract. Urabalis is an automated train handling and traffic management system that allows for safe and energy-efficient train services on the metro rail network.
Thales received a contract from DMRC in April 2013 to supply an advanced passenger information system for Jaipur Metro. The Thales passenger information system can be integrated with the traffic management system and will provide accurate visual and audio information to passengers.
Visitors overview on Jaipur Metro
0 out of 5 stars (based on 0 reviews)
Recent reviews on Jaipur Metro
There are no reviews yet. Be the first one to write one.
Write your Review on Jaipur Metro
There are no reviews yet. Be the first one to write one.