(World Trade Park) WTP In Jaipur
About World Trade Park in Jaipur (WTP in Jaipur)
The World Trade Park, which is a beautiful magnificent man-made building of Jaipur, is known for its beautiful unique architecture. The beauty of the World Trade Park attracts people visiting there so much that people are not able to remove their eyes from it. It was constructed keeping in mind that world trade can be promoted in Jaipur city. The World Trade Park is the only place for complete entertainment, food, and shopping. You can also enjoy movies here at Cinepolis.
It has entertainment facilities for people of all age groups including women, men, children, elders. Food from different parts of the world has been provided at this one place. The World Trade Park enjoys the world's many facilities to its visitors.
There is no entry fee in the World Trade Park, so that anyone can come here for free and multi-storey parking has been arranged here so that people coming from their vehicles do not face any problem in parking.
Architecture of WTP in Jaipur​ (World Trade Park)
World Trade Park is also known for its trade as well as beautiful design. The story of its beauty is such that people who come here do not get tired of taking photographs. This beautiful grand building is divided into two parts called North Block and South Block. These two buildings are divided by City Street. Both these buildings are connected by a bridge. Under water restaurants, auditoriums, banquet halls, and luxury hotels are being built here.
There is a display system on the ceiling of the World Trade Park where 24 projectors show an image. This 13 storey building (including basement) spread over an area of ​​1,300,000 sq ft, this beautiful complex has more than 200 stores and shops. It is arranged to park 3000 cars simultaneously.
Things to do around WTP in Jaipur​ (World Trade Park)
Every traveller visiting Jaipur gets a selfie in from of WTP to mark their visit. The trendy marvel is found on JLN marg close to Gaurav Towers in Malviya Nagar. Here may be a list of places of interest close to World Trade Park with their individual distances from WTP –
(1) Jawahar Circle Garden (2 kms)
WTP - World Trade Park in Jaipur Facts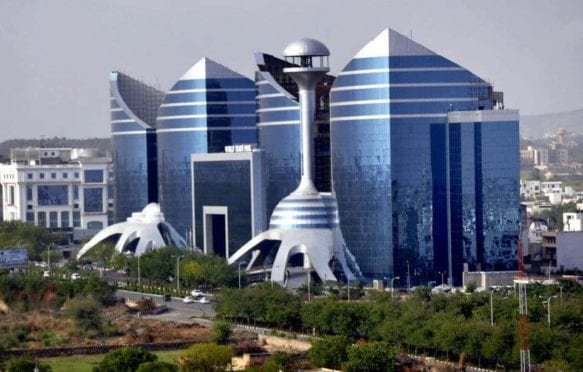 (1) Fact no-1: It took simply two years of work to complete the mall's construction.
(2) Fact no-2: It had been inaugurated by Bollywood superstar Shahrukh Khan who is additionally an investor of World Trade Park.
(3) Fact no-3: WTP was opened for the public in 2012.
(4) Fact no-4: It's one amongst the biggest shopping malls in Bharat having eleven floors.
(5) Fact no-5: In the construction of WTP is Rs.350 Crores cost Comes (over 50000000 USD).
Opening and Closing Time WTP (World Trade Park in Jaipur)
Today

Open
10:00 am-11:00 pm
Many showrooms open after 11 AM in Morning but the Cinepolis WTP Movie Theater opens prior to the first show in the morning (approx 9 am). Here you can get all the Opening and Closing Time of WTP - World Trade Park in Jaipur.
Wednesday
10:00 am-11:00 pm
Thursday
10:00 am-11:00 pm
Saturday
10:00 am-11:00 pm
How to Reach WTP in Jaipur
WTP is extremely well connected to each part of town by buses, cabs, autos, and taxis. Here may be a list of the nearest airports, railway stations and bus stations from WTP.
Jaipur International aerodrome (2.8 km)
Durgapura train station (5.8 km)
Gandhinagar train station (4.2 km)
Jaipur train station (9.4 km)
Sanskrit Camp Bus Stand (11.kms)
I hope you find this article helpful. Do appreciate our efforts by sharing it along with your friends online and liking us on Facebook.
FAQs on WTP - World Trade Park in Jaipur