Table of Contents

History of Nahargarh fort in Jaipur- timings, ticket price, Addres, etc.
If you ever think of going to Jaipur, then forts, sandy places, and temples start coming to your mind. Most of the tourists come to see and see the fort here, out of which one Nahargarh Fort is very popular in Jaipur. If you ever go to Jaipur, then definitely go for a tour of Nahargarh Fort. So let us tell you in detail about Nahargarh Fort.
Quick Information about Nahargarh fort in Jaipur
| | |
| --- | --- |
| Location of Nahargarh Fort | Brahmpuri, Jaipur |
| Timings | 10:00 am to 5:30 pm; every day |
| Entry Fee | ₹ 50 for Indians; ₹ 25 for students; ₹ 200 for foreigners |
| Built-in Year | 1734 |
| Established by | Maharaja Sawai Jai Singh II |
| Architectural style | Indo-European |
| Restaurants at Nahargarh Fort | Once Upon A time, Padao, etc |
| Key Structure | Madhavendra Bhawan built by Sawai Madho Singh |
History of Nahargarh Fort in Jaipur
Nahargarh Fort was built by Maharaja Sawai Jai Singh in 1737. The Nahargarh Fort was mainly used to build patron walls for Jaipur and Amer. The kings here used to come to hunt tigers in the forest adjacent to that fort. It took about 351,000 rupees to build Nahargarh Fort.
The Nahargarh fort never faced invasion but there were a lot of events like the treaty with the Marathas in the 16th century and the Sepoy Mutiny of 1857, the Nargarh Fort gave the wives of British soldiers a place to live.
Nahargarh was earlier named Sudarshangarh which was later changed to Nahargarh. There are 2 reasons for renaming this fort.
Nahar means tiger and Garh means fort. It is said that at that time this fort used to be the abode of tigers, due to which it was renamed, Nahargarh Fort. This is the first argument that some locals make here.
The second thing here is that when this fort was being built, that fort was being demolished every night, then the workers informed this to Maharaja Sawai Jai Singh. When Maharaja Sawai Jai Singh researched it, he came to know that before the place was occupied by Nahar Singh Bhomiya, and that his soul was wandering at that place, after consulting the scholars, he named the place. Kept. Kept. Kept. Built Nahargarh and built the temple of Nahar Singh. Bhomiya was also made.
The architecture of Nahargarh fort in Jaipur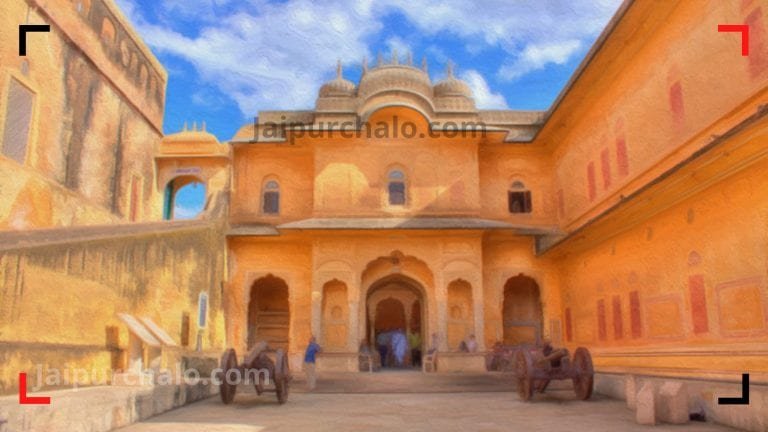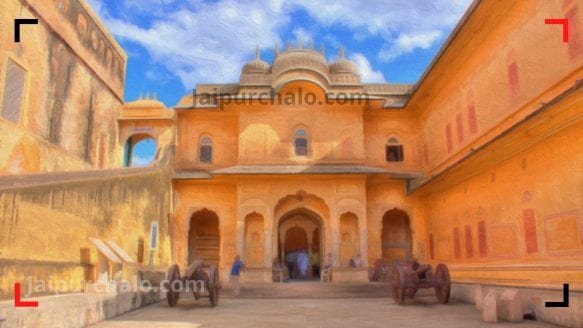 Nahargarh fort is known for its series of carvings, labyrinthine pathways, and many doors. Which is the secret behind this beauty. The artificial Indo-European architecture is like this or you can also say that it is also a very good example of Indo-European architecture. The main place here was built by Madho Singh Ji named Madhavendra Bhawan. There were 9 storied suites built here, which was for 9 queens, the king used to keep his queens here and used to visit them at all times and fulfill their wishes. And these 9 district suites are very well maintained and they also have 9 different names which are given below.
Suraj Prakash Mahal
Chandra Prakash Mahal
Anand Prakash Mahal
Jawahar Prakash Mahal
Laxmi Prakash Mahal
Ratan Prakash Mahal
Lalit Prakash Mahal
Basant Prakash Mahal
Khushal Prakash
Diwan-i-Khas in Nahargarh Jaipur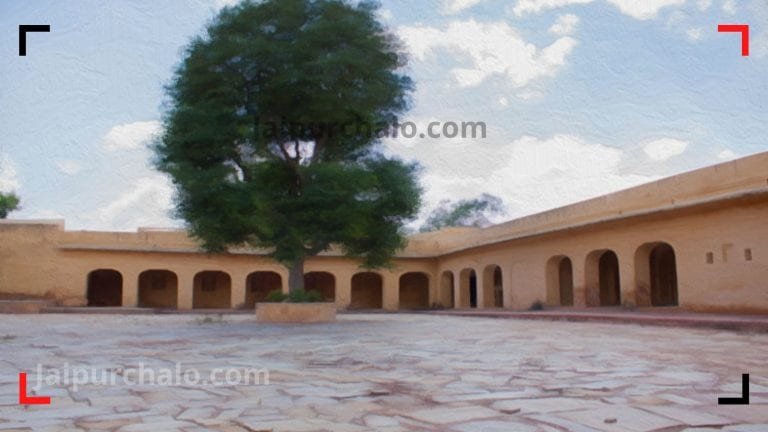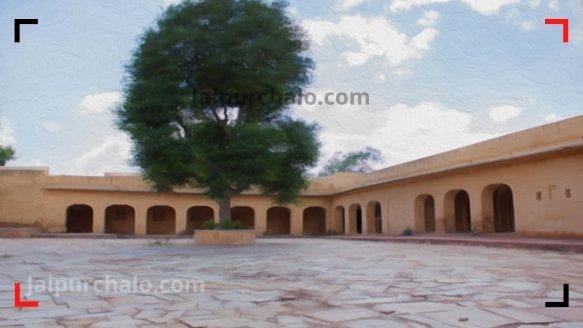 Diwan-i-Khas is also the main building of Nahargarh Fort. Tourists come to see Diwan-i-Khas from many places. The inner wall of the Diwan-i-Khas is covered with a glass, which was brought from Belgium. It is known by another name which is Sheesh Mahal.
Best Time to Visit Nahargarh fort in Jaipur
In Jaipur, both summer and frost remain at its peak. If you go during this time, then you will not be able to roam the Nahargarh Fort. In such a situation, japurachallo.com gives you tips to visit in the months of September to March. And the best time to visit here is from 9 am to 10 pm.
Opening and Closing Time of Nahargarh Fort in Jaipur
| | |
| --- | --- |
| Thursday | 10 am–6 pm |
| Friday | 10 am–6 pm |
| Saturday | 10 am–6 pm |
| Sunday | 10 am–6 pm |
| Monday | 10 am–6 pm |
| Tuesday | 10 am–6 pm |
| Wednesday | 10 am–6 pm |
Entry Fee of Nahargarh fort in Jaipur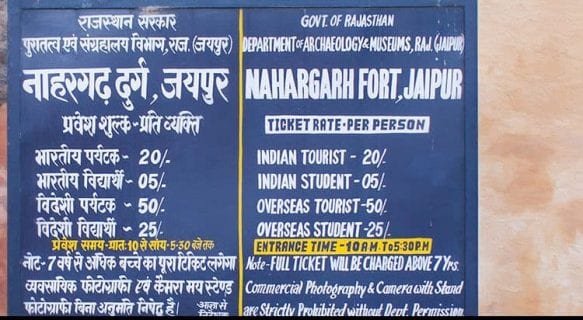 | | Indian | Foreigner |
| --- | --- | --- |
| Tourist | 50 Rs. | 200 Rs. |
| Student | 5 Rs. | 25 Rs. |
The ticket cost is 20rs for Indians and 50rs for foreign tourists and 5rs for Indian students and 25rs for foreign students. On the other hand, if you talk about composite tickets, 150rs have been issued for Indians and 500rs for foreigners. The validity for this composite ticket is 2 days in which Nahargarh Fort, Jantar Mantar, Amer Fort, Hawa Mahal, Isarlat, Albert Hall Museum, Sisodia Rani Garden, and Vidyadhar Garden can be enjoyed.
A special discount is also given for the students and there is a full ticket fee charged for children above 7 years of age.
Tickets can be purchased both online and offline. The ticket counter for offline tickets is found at Jaleb Chowk across Suraj Pol. If you want to buy tickets offline then you leave your home an hour before the scheduled time. Online tickets can be purchased from different websites. And Commercial Photography and Camera withstand are strictly prohibited without permission.
What to Do in Nahargarh Fort in Jaipur
In Nahargarh Fort, cycling and trekking are also provided to give more to the people. There is also a Biological Park inside the Nahargarh Fort where various animals like tiger, deer, chital, crocodile and other animals are kept and preserved which you can enjoy. Flora and fauna of Nahargarh can be enjoyed from one place here.
Must Read:- Nahargarh Biological Park
What to take for the Nahargarh Fort
If you are going for a tour of Nahargarh Fort, then you should take some things with you which will help you to move around. As you go to Nahargarh, you should take a water bottle with you and also take some food items. And your dress should be cotton and loose so that you are comfortable to move around and you should also have a hat and goggles which will protect you from the sun.
Wax Museum in Nahargarh fort in Jaipur
The fort of Nahargarh is also very popular for wax and silicon mannequins. Many tourists come here to see the wax and silicon effigies. Here, there are effigies of many people who have done good work for society.
There is also the Sheesh Mahal where statues of kings and nobles are kept. And all the things related to the lives of those people are kept here. Tourists who like it very much entertain here. And it is open from 10 am to 6 pm. The entry fee for Indian people visiting Sheesh Mahal is Rs 500 and for Foreigner Rs 700.
Night View of Nahargarh Fort in Jaipur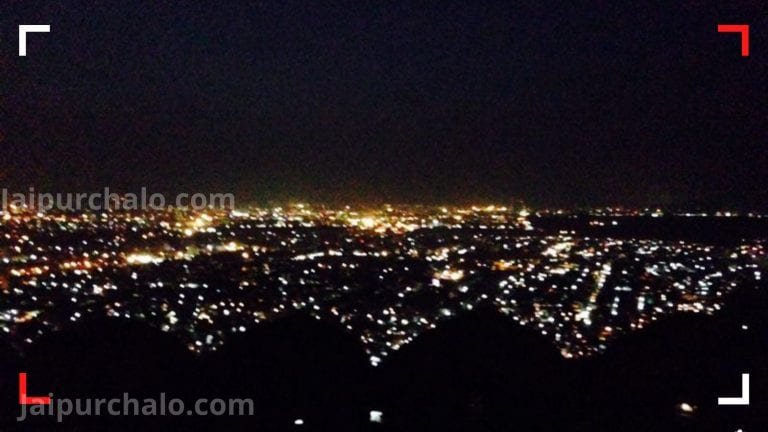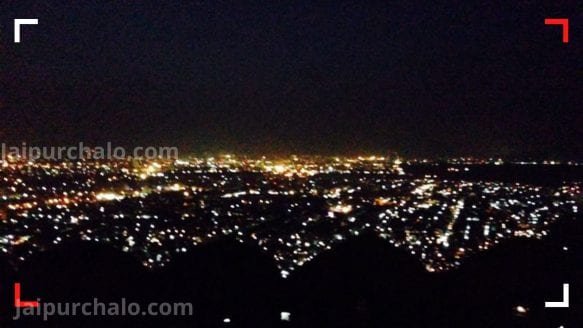 Nahargarh Fort looks more beautiful at night than it is as beautiful as the day. When Nahargarh Fort is bathed with light at night, it seems as if the stars have descended on the earth. This Nahargarh fort is situated in the middle of a dense forest. When the fort is light at night, the scene is breathtaking. This fort is in the middle of the forest, in such a situation, the mobile network in the fort is not right. While going around the fort, try to go in groups because this fort complex is very big and is situated in the middle of the forest.
Water Reservoirs or Bawadi well in Nahargarh Fort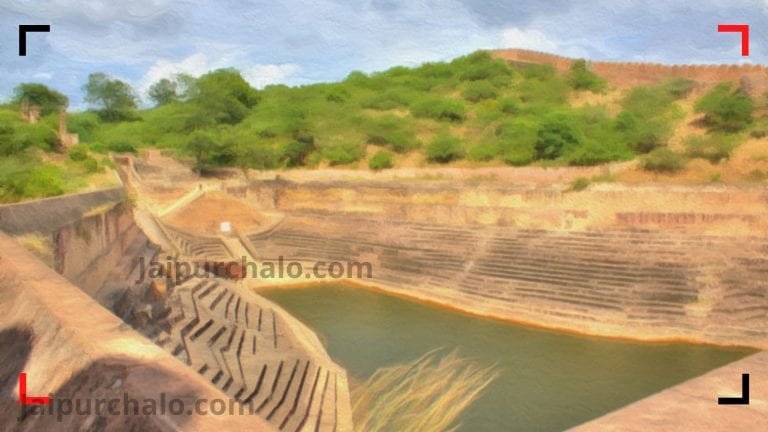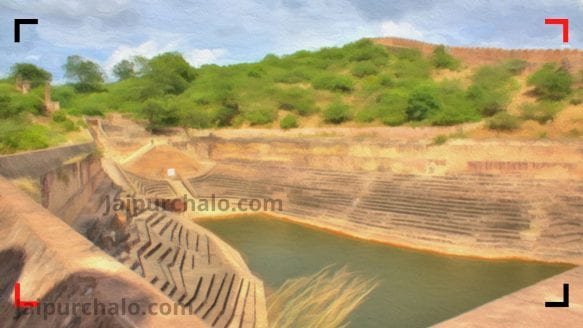 In Nahargarh Fort, water harvesting has been made better along with beauty. Due to which the fort has better water conservation. Two bawadi well have been built in this fort where so much water can be stored that water is used for one year. One Baodi is built in front of the palace and the other Baodi is built in the opposite of Manvendra Bhavan. Here canal is used to improve water harvesting so that maximum rainwater can be harvested.
Hotels near Nahargarh fort in Jaipur
If you go anywhere, the biggest problem is with the accommodation at that place. In such a situation, before going to any place, it is necessary to arrange good places to stay there. Japurachallo.com will help you to get rid of this kind of problem. There are various types of hotel names along with the distance of the hotel from the Nahargarh Fort in Jaipur. So that you can arrange a better stay as you come to Jaipur. Below is the list of hotels near the Nahargarh Fort in Jaipur within 5 km.
Nahargarh Palace Hotel (0.3 km from Amer Fort)

Khatu Haveli (0.9 km from Amer Fort)
The Umaid Vilas (1.5 km from Amer Fort)
Jaipur Jantar Hostel (2.2 km from Amer Fort)
Zostel Jaipur (1.5 km from Amer Fort)
Hotel Dharohar Palace (1 km from Amer Fort)
Also Read: More Hotels in Jaipur
Cafeteria and Restaurants Inside Nahargarh fort in Jaipur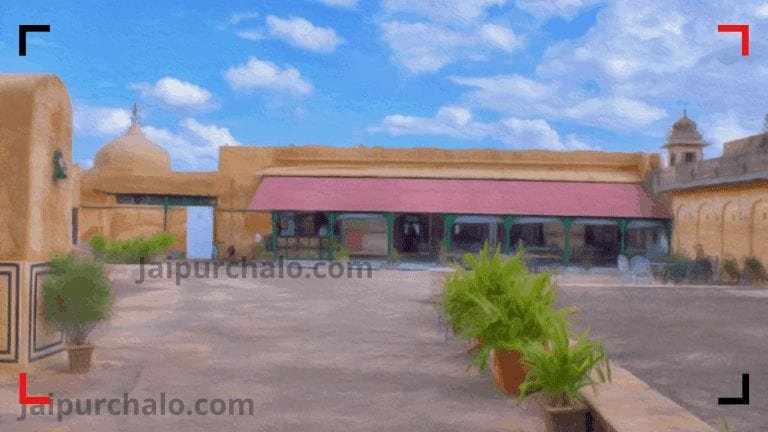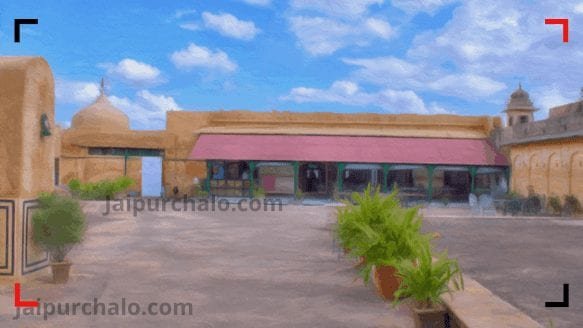 The joy of visiting Nahargarh fort in Jaipur increases, even more, when the system of refreshments is better and tastier. In such a situation, here is the list of restaurants serving excellent and delicious food around or inside Nahargarh fort in Jaipur. Along with the names of these restaurants, the distance between them from the Nahargarh fort in Jaipur is also given, so that you can choose the restaurant according to your convenience.
All these restaurants provide good and tasty food in your budget. Here is a list of the names of all the restaurants below.
Padao
Once Upon A Time
Must Read: More Restaurants in Jaipur
Attraction near Nahargarh fort in Jaipur
When we go to a place to visit, it is our endeavor that we can move as much as possible in a short time. In such a situation, the names of tourist places around Nahargarh Fort are given here and their name from Nahargarh Fort Distance is also stated. You can choose the name of tourist places near Nahargarh Fort which is your choice. And all these tourist places come within 5 kilometers.
Jaigarh Fort (6.5 Kms)
Nahargarh Biological Park (18.1 Kms)
Jal Mahal (10.3 Kms)
Rajrajeshwari Temple (7.4 Kms)
How To Reach Nahargarh fort in Jaipur
If the distance between Jaipur airport to Nahargarh fort is decided by bus then it takes 50 minutes and is the cheapest medium. If you travel by cab, then this distance can be covered in just 20 to 25 minutes.
Sindhi Camp Bus Stand (17.5 km via Amer Road)
Durgapura Railway Station (24.2 km via Jawahar Lal Nehru Marg)
Gandhi Nagar Railway Station (21.5 km via Amer Road and NH248)
Jaipur Railway Station (18.3 km via Amer Road)
Jaipur International Airport (25.8 km via Jawahar Lal Nehru Marg)
Location of Nahargarh fort in Jaipur
You will get a Google map to visit Nahargarh Fort below so that you will be able to reach the fort easily. And along with that, the address there was also given to Nahargarh Fort.
Address: Krishna Nagar, Brahampuri, Jaipur, Rajasthan 302002
Must Read: Instruction, and Benefits of Padahastasana(Uttanasana) in Hindi
If you like this article on Nahargarh Fort in Jaipur, then you should share this article with your friends and family. And also share your thoughts on this article.