History of Nahargarh fort in Jaipur- timings, ticket price, Address, etc.
 
Nahargarh fort is situated on the foot of Aravalli Hills, which is in the city of Jaipur in the Indian state of Rajasthan. Fort was known as Sudarshan Garh. It is the belief that Nahar here stands for Nahar Singh Bhomia, while spirit haunted the palace and obstructed construction of fort whose spirit was pacified by building a temple in his memory within the fort. So it is known by his name Nahargarh fort.
Nahargarh fort is built by a king of Jaipur, maharaja Sawai Jai Singh 2 in 1734. The wall over surrounding hills, forming fortifications that connected this fort to jaigarh palace. This fort never comes under attack. During the Indian muting of 1857, the European of reign including the British resident's wife were moved to Nahargarh fort for their protection by king raja Sawai Ram Singh.
Scenes of movie Rang de basanti, sudh desi romance and other films shot at Nahargarh fort.
Extension of the fort was done in the reign of Sawai Raja Ram Singh in 1868. A series of palace was built at the expense of 3.5 lack in 1883-92. Nahargarh was also a hunting place for kings (maharaja).
Jaipur wax museum is another an attractive place which is build at the left side of entrance of Nahargarh fort by the support of archeological and Jaipur's museum, tourist department and government of Jaipur. Founder and director of wax museum Jaipur is Mr. Anoop shreevastav and inaugurated on 17 December 2016, by Bollywood actor Govinda. More than 35 wax and silicon statue form the field of sports. Many others famous personalities statues also available ( social leaders, Bollywood stars, and other famous personalities.)
The architecture of Nahargarh fort in Jaipur

The secret of the beauty of the Amer Fort is its series of carvings, labyrinth paths, and series of gates. The Diwan-e-Khas here, which is one of the main buildings of the Amber Fort, has a great desire for many tourists to see it. The walls inside this Diwan-e-Khas are covered by mirrors and glass imported from Belgium, hence it is also known as Sheesh Mahal. In the rear of the fort, there was a place for women. There were many rooms where Maharaj used to keep their queens and used to visit them from time to time according to his wish.
There is a way to go from Amer Fort to Jaigarh Fort which goes through Ganesh Pol. Tourists who come here also go via Ganesh Pol or Golf Cart. This Ganesh Pol was built by Raja Jai ​​Singh.
Best Time to Visit Nahargarh fort in Jaipur
The heat and cold in Jaipur(Pinkcity) are at its peak, in such a situation, JaipurChalo.com recommends the best time from September to March to visit Nahargarh fort in Jaipur. The best time to visit the Nahargarh fort in Jaipur is from 9:00 am to 10:00 pm so that you can enjoy the light and sound show as well as the dinner there. But There is no Opening and closing Time.
Things to Do at

Nahargarh fort in Jaipur
Amer Fort is known for its beauty as well as its divinity. That is why it is one of the most visited forts of India by tourists. There are various types of entertainment available along with roaming here. Such as Elephant Riding, Night View from Hill, Museum Visit, Puppet Show, Dance Program, Temple Visit, Dining Experience, and other entertainment resources.
(1). Elephant Ride-on Amer fort of Jaipur
The elephant ride is the most entertaining moment inside the palace. The elephant ride consists of traveling from the car park to Jaleb Chowk. Two people can ride on one elephant at a time. It costs 1200 for an Elephant ride. The elephant ride time is from 7 am to 11 am. Elephants were also available to ride in the afternoon but to give them more rest, this time was set to rest in 2017. Many tourists abstain from riding elephants for the welfare of elephants, but still, there is a huge demand for elephant rides due to which the facility of advance booking is not provided.
(2). Dance Show at Amer Fort of Jaipur
The daily evening dance show is well-liked by the people. This program of a dance show is held daily in the Sukh Mahal of Amer Fort. A Rajasthani dance is performed here if you want to enjoy it, then you have to book tickets from the ticket counter.
(3). Puppet Show Experience at Amer Fort of Jaipur
The joy of the Puppet Show enhances the enjoyment and entertainment in dinning. This dance and puppet show is very pleasing to the tourist's heart. The Puppet Show is very fun and engaging which is quite crowded to watch.
(4). Experience of Dinner at Amer Fort of Jaipur
There are multicuisine restaurants within the fort. Where delicious dishes are served to the tourists. Delicious dishes like Dal Baati and Gatta sabzi are served at the customers' order here.
(5). Temple Visit Experience at Amer Fort of Jaipur
The beauty and faith of temples attract Hindus from time immemorial. In such a situation, such abundance temples have been established within the fort by the kings there. The temple of Shiladevi is the most famous among them which is situated within the fort. Sheela Devi Temple. Shila Devi temple was built by Raja Mansingh.
Entry Fee of Nahargarh fort in Jaipur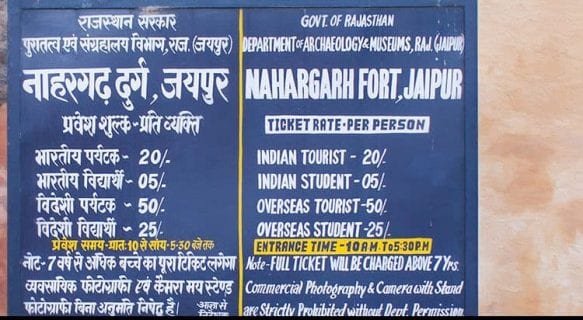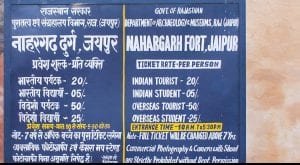 The ticket cost is 20rs for Indians and 50rs for foreign tourists and 5rs for Indian students and 25rs for foreign students. On the other hand, if you talk about composite tickets, 150rs have been issued for Indians and 500rs for foreigners. The validity for this composite ticket is 2 days in which Nahargarh Fort, Jantar Mantar, Amer Fort, Hawa Mahal,  Isarlat, Albert Hall Museum, Sisodia Rani Garden, and Vidyadhar Garden can be enjoyed.
A special discount is also given for the students and there is a full ticket fee charged for children above 7 years of age.
Tickets can be purchased both online and offline. The ticket counter for offline tickets is found at Jaleb Chowk across Suraj Pol. If you want to buy tickets offline then you leave your home an hour before the scheduled time. Online tickets can be purchased from different websites. And Commercial Photography and Camera withstand are strictly prohibited without permission.
Hotels near Nahargarh fort in Jaipur
Ongoing anywhere, the biggest problem is with the accommodation at that place. In such a situation, it is necessary to make good arrangements to stay there before going to any place. To make you free from this kind of problem, here are the names of different types of hotels, along with the distance of the hotel from Nahargarh fort in Jaipur. So that you can arrange a better stay along with visiting Jaipur. Below is the list of hotels near Nahargarh fort in Jaipur within 5km.
Hathi Mauja (3.2 km from Amer Fort)
The Jai Bagh Palace (0.4 km from Amer Fort)
Trident Jaipur (3.3 km from Amer Fort)
KK Royal Hotel at Amer (1.2 km from Amer Fort)
Hostel Bagpack Village (4.3 km from Amer Fort)
Kawa Guest House (1.8 km from Amer Fort)
Also Read: More Hotels in Jaipur
Restaurants near Nahargarh fort in Jaipur
The joy of visiting Nahargarh fort in Jaipur increases, even more, when the system of refreshments is better and tastier. In such a situation, here is the list of restaurants serving excellent and delicious food around Nahargarh fort in Jaipur. Along with the names of these restaurants, the distance between them from the Nahargarh fort in Jaipur is also given, so that you can choose the restaurant according to your convenience. All these restaurants provide good and tasty food in your budget. Here is a list of the names of all the restaurants below.
1135 AD (0.2 km from Amer Fort)
Cafe Nescafe (0.2 km from Amer Fort)
Kokum Bistro (0.3 km from Amer Fort)
The Stag Rooftop Restro, Cafe & Lounge (0.3 km from Amer Fort)
Royal Amer Restaurant (02 km from Amer Fort)
A2A Cafe & Kitchen (0.3 km from Amer Fort)
Chokha Amer Restaurant (0.5 km from Amer Fort)
Also Read: More Restaurants in Jaipur
Attraction near Nahargarh fort in Jaipur
When we visit a tourist place somewhere, it is our endeavor to visit as many as possible in a short time. In such a situation, the names of tourist places around Amer Fort are given here and their distance from Amber Fort is also given. You can choose the name of the tourist places near Amer Fort which is your choice.
Sheesh Mahal (Hall of Mirrors) (3 min from Amer Fort)
Amer Fort (2 min from Amer Fort)
Elefriend (6 min from Amer Fort)
Elefantastic (1.7 km from Amer Fort)
EleSafari (1.7 km from Amer Fort)
Elefanjoy (3.5 km from Amer Fort)
Elejungle (2.8 km from Amer Fort)
How To Reach  Nahargarh fort in Jaipur
If the distance between Jaipur airport to Nahargarh fort is decided by bus then it takes 1.5 hours and is the cheapest medium. If you travel by cab, then this distance can be covered in just 20 minutes.
Sindhi Camp Bus Stand (10.4 km via Amer Road)
Durgapura Railway Station (20.5 km via NH248)
Gandhi Nagar Railway Station (17.8 km via Amer Road and NH248)
Jaipur Railway Station (11.7 km via Amer Road)
Jaipur International Airport (22.2 km via Amer Road and NH248)
Location of Nahargarh fort in Jaipur
Must Read: Instruction, and Benefits of Padahastasana(Uttanasana) in Hindi