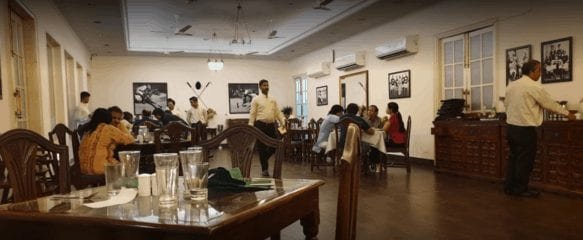 Spice Court, Jaipur
Every person living in Jaipur would suggest this warm and hospitable place for a quiet dinner or a loud family bash. A fantastically set yard home rows of tables with abundant surroundings that build this place excellent for soirees and romantic dinners. you furthermore may have an interior dining area, wherever the air-conditioned air rarely causes you to notice you're in a place with usually hot weather. The gamut of Rajasthani dishes accessible here is like Associate in Nursing oasis within the desert for foodies; these will set your mood right once a busy day. The deeply seasoned Jungli Maas is lip-smackingly pleasant-tasting, however, Keema Bhatti is that the real star of the menu. warm welcome with the eclectic ambiance and therefore the wondrous food served here build Spice Court a must-visit in Jaipur.
Must-try these Food of Spice Court: Lal Maas, Junglee Maas, Keema Bhati, Bhuna Chicken, Malai Kofta, Biryani, Chicken Tikka
Cost for Two People at Spice Court: ₹ 1000 (approx.)
Opening and Closing Time of Spice Court, Jaipur
Today

Closed
12:00 pm-4:00 pm
7:00 pm-10:30 pm
Here you can Get all all day of opening and closing time of Spice Court. And Go For Rajasthani Food in Jaipur.
Sunday
12:00 pm-4:00 pm
7:00 pm-10:30 pm
Monday
12:00 pm-4:00 pm
7:00 pm-10:30 pm
Tuesday
12:00 pm-4:00 pm
7:00 pm-10:30 pm
Wednesday
12:00 pm-4:00 pm
7:00 pm-10:30 pm
Thursday
12:00 pm-4:00 pm
7:00 pm-10:30 pm
Friday
12:00 pm-4:00 pm
7:00 pm-10:30 pm
Saturday
12:00 pm-4:00 pm
7:00 pm-10:30 pm
Address

Phone

Zip/Post Code

302006