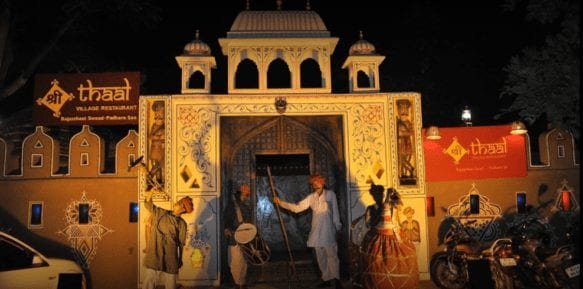 Shri Thaal Village, Jaipur
Rustic Rajasthan and its heritage are often practiced at Shri Thaal Village, one among the simplest restaurants in Vaishali Nagar, Jaipur. Here, the chief dictum is Padhaaro Saa, which implies welcome salutation within the language. the heat and conviviality of the individuals of the region are evident during this eating place that gives varied flavors of sweet and spicy to diners. The authentic village set-up with the fort background, puppet play, traditional service, music, and indweller mannequins, stimulate the enjoyment of feeding here. this is often an ideal place to orient kids and adults with the magnificence of Rajasthani food, customs, and attributes at cheap rates.
Must-try these Food of Shri Thaal Village:  Rajasthani Thali, Rabri, Samosa, Jalebi, Roti, Raita, Dal Bati Churma
Cost for Two at Shri Thaal Village: ₹ 700 (approx.)
Opening and Closing time of Shri Thaal Village, Jaipur
Today

Open
12:30 pm-11:00 pm
Here you can get all the information about timing of Shri Thaal Village So you go Shri Thaal Village with your perfact time and enjoy Rajasthani Food in Jaipur.
Wednesday
12:30 pm-11:00 pm
Thursday
12:30 pm-11:00 pm
Saturday
12:30 pm-11:00 pm
Address

Phone

Zip/Post Code

302021