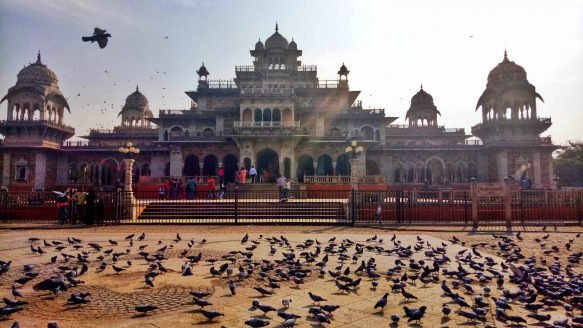 Ram Niwas Bagh, Jaipur
It is located in the heart of the Jaipur city, Ram Niwas Bagh exhibits the awsome natural beauty through its lush green patches. Renowned together of the main tourist attractions in Jaipur, Ram Niwas Bagh was built by Maharaja Sawai Ram Singh within the 19th century. From that point, the exotic garden had been subjected to numerous new introductions, adding to its elegance and charm.
Despite the sprawling green scenery, the majestic structures within the vicinity of the garden, built over the successive years, are definitely gripping. Albert Hall Museum is impressive at Ram Niwas Bagh is one of such eye-catchers. Built-in an Indo-Saracenic style of architecture, the museum amazingly houses an enormous collection of artifacts like marble statues, sculptures, and miniature paintings.
Not only for history lovers, but Ram Niwas Bagh also has the illustrious zoological garden, which may be a prime spot for the tourists curious about Botany. Easily commutable from all parts of Jaipur, Ram Niwas Bagh is unquestionably a must-visit.
Things to try to near Ram Niwas Bagh:-
After spending a pleasant evening within the beautiful Ram Niwas Bagh, one can always head for a few local shopping within the nearby Bapu Bazaar. Besides the Bazaar, shopping within the numerous malls is additionally counted together of the simplest things to try to near Ram Niwas Bagh.
Opening Hours:- 9:00 AM - 5:00 PM
Entrance Fee:- Indian: INR 10
Foreigner: INR 100
Camera Fee:- N.A