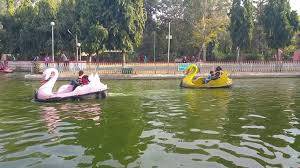 Nehru bal udyan in Jaipur
Nehru Bal Udyan is found next to Park Prime hotel. Nehru Bal Udyan or Nehru Park is an incredible stopover for those that want to possess fun. Measuring a length of 1 km, this park is home to greenery and tranquility. Also, running toy trains, this park is sort of famous amongst kids, because it makes up for a gorgeous funfair for them.
Nehru bal udyan is Famous for:
Nehru Bal udyan is famous for Photo Fanatics, Fun Lovers, Adventure Seekers
Nehru bal udyan Timing:
Today

Open Now
6:00 am-6:30 pm
Visit Duration for Nehru bal udyan:
Around 1 to 2 hours
Entry Fee:
Free
How to Reach Nehru bal udyan:
You will reach by your vehicle or by bus.
Address

Phone

Zip/Post Code

302015