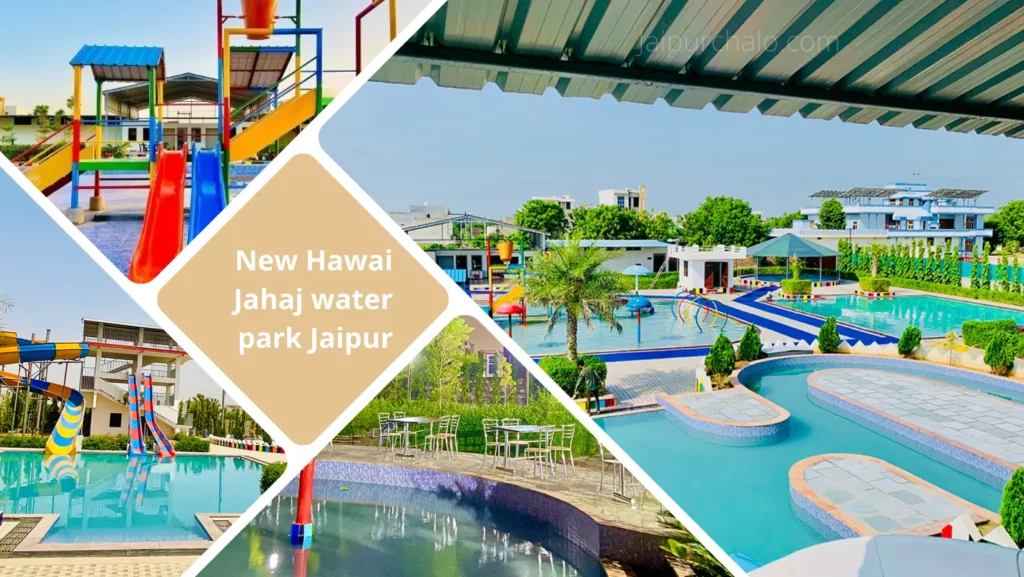 New Hawai Jahaj water park Jaipur – ticket price, timing, contact number, address
Quick information about New Hawai Jahaj water park Jaipur
Name
New Hawai Jahaj Water Park
Address
Balaji Sagar 15, Road No. 2, Hathoj Sirsi Link Road, Kalwar Road, Jhotwara, Rajasthan 302012
Ticket Price
Adult: Rs. 400 to 550
Child: Rs. 350 to 400
Timing
10.00 AM to 6.00 PM Everday
Distance from Jaipur
15 KM
Facilities
Water Park, Wave Pool, Water Slides, Restaurant, Locker Room
Website
Click Here
Contact Number
+91 9079189262
Email
newhawaijahajwaterpark@gmail.com
Jaipur, the vibrant Pink City of India, is famous for its rich history, splendid architecture, and warm hospitality. But did you know that this enchanting city is also home to an exciting oasis of water-based adventure? The Airplane Water Park located on the outskirts of Jaipur offers a thrilling respite from the scorching heat and promises an unforgettable experience for visitors of all ages. In this blog post, we will delve into the scintillating attractions, adrenaline-pumping rides, and relaxing amenities that make Airplane Water Park a must-visit destination for fun-filled travelers in Rajasthan.
Opening and Closing times of New Hawai Jahaj water park Jaipur
| | |
| --- | --- |
| Sunday | 10 am–6 pm |
| Monday | 10 am–6 pm |
| Tuesday | 10 am–6 pm |
| Wednesday | 10 am–6 pm |
| Thursday | 10 am–6 pm |
| Friday | 10 am–6 pm |
| Saturday | 10 am–6 pm |
New Hawai Jahaj Water Park Jaipur Ticket Price
Ticket prices for New Airplane Water Park can vary depending on factors such as the age of visitors, the day of the week, and any ongoing promotions or discounts. It is recommended to check the official website or contact the water park directly for the most accurate and up-to-date ticket prices. However, to give you a general idea, here are some typical ticket price ranges:
Adults (12 years and above): Ticket prices for adults usually range from ₹500 to ₹800 (Indian Rupees) per person.
Children (4-11 years): Ticket prices for children are usually lower than for adults and can range from ₹300 to ₹500 per child.
Infants (3 years and under): Infants often have free admission to water parks, but it is advised to check the park's policy regarding infant admission.
Please note that the prices mentioned above are indicative and may vary. It is always best to verify current ticket prices from official sources to ensure accurate information and plan your travel accordingly. Additionally, the water park may offer special pricing for groups, student groups, or special events, so it's worth checking out any available discounts or packages.
Must Read: Best Water Parks in Jaipur
Facilities provided by New Hawai Jahaj Water Park
New Hawai Jahaj water park Jaipur offers a wide range of facilities to ensure a comfortable and enjoyable experience for its visitors. Let us explore some of the facilities provided by the park:
CHANGING ROOM AND LOCKER FACILITIES:
The park offers clean and well-maintained changing rooms where visitors can comfortably change into their swimwear. Additionally, locker facilities are available to keep personal belongings safe while enjoying the water attractions. This ensures convenience and peace of mind for visitors.
Restroom and shower area:
The New Hawai Jahaj Water Park offers clean and hygienic toilet facilities throughout the park. Visitors can freshen up and make use of the facilities easily. Shower areas are also available for visitors after enjoying the water rides, ensuring cleanliness and comfort.
Seating Areas and Cabanas:
The park offers ample seating areas throughout its complex, allowing visitors to rest and relax between rides. Comfortable seating options, such as benches and chairs, are strategically placed for visitors to relax and rejuvenate. Additionally, for a more exclusive experience, the park offers cabanas where visitors can have a private place to relax and unwind.
Food and drink options:
To cater to the culinary needs of the visitors, the New Hawai Jahaj Water Park Jaipur has various food stalls and a restaurant. These establishments offer a variety of food and refreshment options including snacks, beverages, and meals. Visitors can enjoy delicious cuisine, stay hydrated and satisfy their hunger during their visit to the park.
First aid and medical facilities:
The safety and well-being of visitors to a water park are of the utmost importance. Trained staff members and lifeguards are available throughout the park to ensure the safety of visitors. In case of any minor injury or medical emergency, first aid facilities are readily available. The park has a dedicated medical center or personnel who can provide necessary assistance if needed.
Parking facilities:
The New Hawai Jahaj Water Park provides parking facilities for visitors arriving by private vehicles. This feature allows visitors easy access to the park without worrying about finding a parking spot.
Professional Photography Services:
To capture memorable moments of your visit, the park offers professional photography services. Photographers are available to take high-quality pictures of you and your group enjoying the water park attractions. These photographs make wonderful gifts and souvenirs.
It is important to note that specific facilities may vary, and it is advised to check the official website or contact the New Hawai Jahaj water park Jaipur directly for the latest information on the facilities provided. The New Hawai Jahaj water park Jaipur strives to ensure a comfortable and enjoyable experience for all visitors, making it the perfect destination to beat the heat and create lasting memories of fun and excitement.
New Hawai Jahaj water park Jaipur A tropical paradise in the Desert:
Despite being located in the arid landscape of Rajasthan, the Airplane Water Park manages to transport visitors to a tropical wonderland. The park's architecture and design pay homage to the Hawaiian theme with vibrant colors, lush greenery, and beautifully landscaped surroundings. As soon as you enter, you will be greeted by a captivating atmosphere that immediately sets the tone for a day full of excitement and relaxation.
The centerpiece of the park is a giant pirate ship, which looks like a floating island straight out of a fantasy movie. This iconic structure is not only visually appealing but also serves as a platform for various water slides, offering exhilarating thrills for both children and adults. The park has a variety of attractions, including wave pools, lazy rivers, waterfalls, and themed water slides for different levels of thrill-seeking.
Thrills and chills for all at New Hawai Jahaj water park Jaipur:
New Hawai Jahaj Water Park Jaipur offers a variety of rides and attractions to suit the preferences of each visitor. For adrenaline junkies, the park offers high-speed water slides with twists, turns, and heart-pounding drops. For example, the "Kamikaze" slide will take you on a free-fall journey that will leave you breathless. If you prefer a more family-friendly experience, the "Rain Dance" zone is where you can groove to live music and enjoy a cool shower with your loved ones.
One of the most popular attractions is the "lazy river," where you can relax and float on an inflatable tube, soaking in the tranquil atmosphere as the gentle current carries you along. The "Wave Pool" is another attraction, simulating the feel of being at sea with its artificial waves. This feature alone can provide hours of fun and excitement for visitors of all ages.
Families with young children will enjoy a dedicated Kids Zone that offers a shallow pool, miniature slide, and interactive water play area. The park's emphasis on safety ensures that parents can relax and let their little ones explore with confidence. Additionally, the New Hawai Jahaj Water Park Jaipur hosts regular events and activities, such as treasure hunts and water sports, ensuring a dynamic and engaging experience for all.
Beyond Water Attraction:
While water-based activities take center stage at New Hawai Jahaj water park Jaipur, the venue goes above and beyond to provide a holistic experience for its visitors. The park offers a variety of facilities to enhance your comfort and enjoyment. Well-maintained changing rooms, clean restrooms, and locker facilities are available to ensure a hassle-free journey. Ample seating areas, shady cabanas, and lush gardens provide places to relax and rejuvenate between rides.
For those craving a snack, the park has a number of food stalls and a restaurant that caters to diverse tastes. Visitors can relish an array of delicious snacks and cold beverages, and can even relish local Rajasthani cuisine. The park's attentive staff ensures prompt service and maintains a high standard of cleanliness.
How to Reach New Hawai Jahaj water park Jaipur
Getting to New Hawai Jahaj Water Park Jaipur is relatively easy, and there are several transportation options available. Here are some common ways to reach the water park:
By Car/Taxi: The most convenient way to reach the water park is by car or taxi. You can hire a taxi or use ride-hailing services like Uber or Ola to reach the park directly. The water park is located on the outskirts of Jaipur, and the estimated travel time from the city center may vary depending on traffic conditions but usually takes around 30-45 minutes.
By Bus: Jaipur has a well-connected bus network, and you can take a public bus to reach the water park. You can inquire at the local bus station about buses going to the area where the water park is located. It is advised to check the bus routes and timings well in advance to plan your journey.
By Auto-rickshaw: Auto-rickshaws are a popular mode of transport in Jaipur. You can hire an auto-rickshaw to take you to New Airplane Water Park. Negotiate the fare with the driver before starting the journey, or you can also ask them to meter if available.
Personal Transportation: If you have your own vehicle or are traveling as part of a group, you can use a GPS or navigation app to guide you to the water park. The park is easily accessible by road, and there are usually signboards along the way to guide you in the right direction.
It is advised to check the exact location and address of New Hawai Jahaj Water Park Jaipur before starting your journey. Additionally, it is always a good idea to plan your trip well in advance, consider traffic conditions, and allot enough travel time to ensure a smooth and enjoyable trip to the New Hawai Jahaj water park Jaipur.
Note*: All the above information is collected from different sources on the internet and Official Website. Please verify before starting your journey to New Hawai Jahaj water park Jaipur. All data and images are subject to copyright and are the property of the official website of the new Hawai Jahaj Water Park Jaipur. Jaipurchalo.com is not responsible for any discrepancy in any information. You can find other budget-friendly local businesses in Jaipur, Rajasthan on Jaipurchalo.
If you like this article on Hawai Jahaj water park Jaipur then share it with your friends and family members to appreciate our work and help them.
Contact Information
Balaji Sagar 15, Road No. 2, Hathoj Sirsi Link Road, Kalwar Road, Jhotwara, Rajasthan
New Hawai Jahaj water park Jaipur – ticket price, timing, contact number, address
0 reviews
Write Your Review
There are no reviews yet.