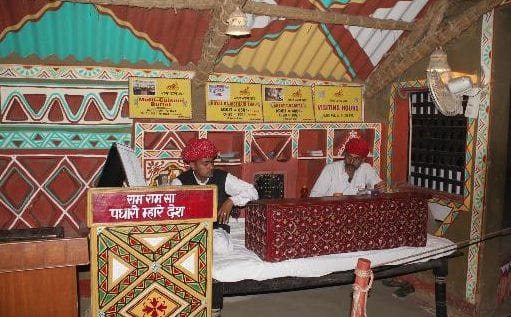 Chokhi dhani in jaipur
Chokhi Dhani may be a village resort and a funfair in Jaipur where you'll witness the liveliness of Jaipur's festivals and celebrations. There are many slides, swimming pools, and other activities of entertainment that are enjoyed by kids and adults too.
It is the simplest place for tourist attractions where visitors enjoy the culture and tradition of Rajasthan. you'll also watch the folk's dancers dancing on traditional music and therefore the puppet play is enjoyed by kids. Traditional Rajasthani food is served within the restaurants. It also has health clubs, spa, salon. For overnight stay well-equipped rooms are available.
Chokhi Dhani in Jaipur price
There are two types Chokhi Dhani Jaipur tickets fees which are listed below:-
Entry Fee For Adult – 700 INR
Entry Fee For Children – 400 INR
Opening and Closing Time of Chokhi dhani in jaipur
Today

Open
5:00 pm-11:00 pm
Here You can Get all the Timming of Chokhi Dhani in Jaipur. You have to easy to Find the Timming of Chokhidhani and you Go Chokhi Dhani in Jaipur and Enoys Your Day.
Wednesday
5:00 pm-11:00 pm
Must Read: Jaipur IPL Match