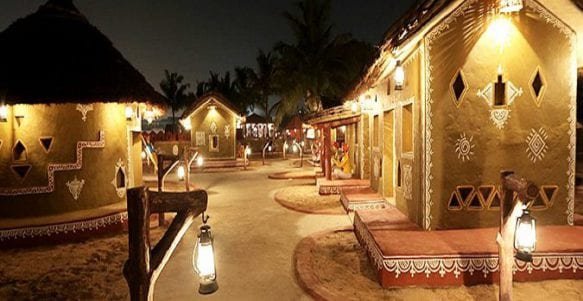 Chokhi Dhani, Jaipur
Chokhi Dhani In Jaipur famous village-themed resort in Jaipur Rajasthan enchants guests with a show of the cultural splendor of the region that features are the folk dance and also the rhythmical beats within the background. whereas you're here, take a camel ride, that is thought to extend your appetence before the deep dig at the ghee-based delicacies at the venue. The colorful thalis served at Chokhi Dhani with an associate array of flavors simply lock you into momentaneous seventh heaven. giving healthy and wholesome meals in organic and biodegradable receptacles, this place commands that each soul that goes to Jaipur ought to never come while not treating themselves to the tantalizing thalis here. one among the most effective vegetarian restaurants in Jaipur. it's a perfect place to pay a complete evening with friends and family.
Must-try these Food of Chokhi Dhani: Rajasthani Thali, Churma, Gol Gappe, Khichda, Kulfi, Chhaachh, Kadhi
Cost for Two People at Chokhi Dhani: ₹ 1600 (approx.)
Opening and Closing Time of Chokhidhani, Jaipur
Today

Closed
5:30 pm-11:00 pm
Here you can get all Opening and Closing Timing of Chokhi Dhani in Jaipur. So you can Visit Chokhidhani with your Perfact timing and enjoy Rajasthani food in Jaipur.
Wednesday
5:30 pm-11:00 pm
For information about Chokhi Dhani in Jaipur Click here
Contact Information
12 Miles Tonk Road, Goner Mod Flyover, Sitapura, Jaipur, Rajasthan