The Bus Stand of Jaipur Info- Facilities, Timing, ISBT, List of Bus
Jaipur's bus stand is one such center that connects Jaipur not only to the nearby cities of Rajasthan but also to other states. In a big city like Jaipur, it has been constructed keeping in mind tourists to easy travel and avoid inconvenience in traveling. This Inter State Bus Terminal of Jaipur is located at a distance of 2 KM from Jaipur Station Road in the city center, also known as Sindhi Camp. Here cities, as well as villages, have also been connected through buses of this bus stand.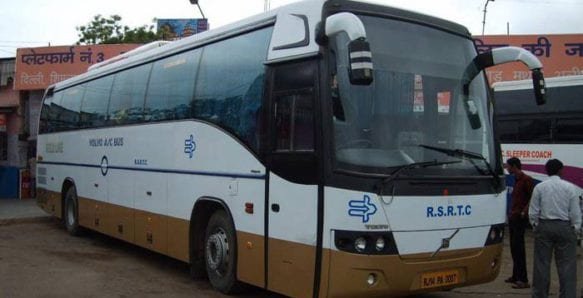 From here you can get settled for visiting cities of Rajasthan as well as various states of the country including Delhi, Uttarakhand, Punjab Gujarat, Uttar Pradesh, Madhya Pradesh, which you can get information from the bus stand here. Here the Rajasthan State Board's buses run, along with private AC and non-AC buses, you can get the facilities from here. Apart from these, all types of transport facilities including travelers, local buses are available at the bus stand here. Sindhi Camp is also Known as Jaipur Bus Stand
Popular Destinations that can be Nearest from Bus Stand of Jaipur
There are also some destinations from Jaipur bus stand where the buses are always packed to go and their ticket reservations have to be done in advance, these destinations are Jaipur to Ahmedabad, Jaipur to Udaipur, Jaipur to Gwalior, Jaipur to Ajmer, Jaipur to Agra, and Jaipur to Lucknow. These were some of the destinations that greatly boost Rajasthan tourism. Tourists who come from around Rajasthan travel a lot on these routes.
Bus Stand of Jaipur Facilities
When we go to a place, then there is an image in our mind that what facilities will be available there, what will be the place, then let us tell you that in this beautiful pink city, there will be a lot of autonomy at this bus stand. There is a covered waiting area here for people to avoid the sun and rain. A safe cloakroom is also provided for visitors. The toilet here also looks neat and clean every day. Here soft drinking water is also made available for people coming to the bus stand at Water ATM.
In order to avoid inconvenience to the tourists and others who come here, a women's helpline, assistant desk, and travel counters have been arranged here. There is no money problem, so ATMs and restaurants are also open for better management of food. Here you will find many snacks and food shops from where you can buy some food items.
Popular Tourist Spots From Jaipur Bus Stand
As you know that Jaipur bus stand is located in the center of the city, various tourist places of Jaipur are located around this bus stand where you can book a taxi or visit by yourself. The description of these tourist spots is given below with the name
City Palace 2.6kms away from Bus Stand of Jaipur and address is Tulsi Marg, Gangori Bazaar, J.D.A. Market, Pink City, Jaipur, Rajasthan 302002
Jantar Mantar 3.0kms away from Jaipur Bus Stand and address is Gangori Bazaar, J.D.A. Market, Pink City, Jaipur, Rajasthan 302002
Hawa Mahal 3.2kms away from Bus Stand of Jaipur and address is Hawa Mahal Rd, Badi Choupad, J.D.A. Market, Pink City, Jaipur, Rajasthan 302002
Jal Mahal 8.2kms away from Bus Stand of Jaipur and address is Amer Rd, Jal Mahal, Amer, Jaipur, Rajasthan 302002
Amer Fort 12.2kms away from Bus Stand of Jaipur and address is Devisinghpura, Amer, Jaipur, Rajasthan 302001
Private Bus Services at Jaipur Bus Stand
It also provides services of Rajasthan State Board buses as well as other private buses. Some of the major private bus services are Milan Travels, Srinath Travels, Vista Travels, Parshwanath Travels, Kalpana Travels, Shakti Travels, The Bullet Bus. With the help of these government and private services buses, you can roam the city of Jaipur and nearby cities easily. All these bus services are run with a view of tourism.
Hotels Near Sindhi Camp Bus Stand of Jaipur
After coming here, the most important thing is that you get a good stay arrangement. In such a situation, there are some hotels near Jaipur bus stand which are providing facilities keeping in mind your budget. The distance of all these hotels is very short from Jaipur bus stand where you can easily go on foot or taxi. Keeping your budget in mind, the price of one night stay in these hotels ranges from Rs 1000 to Rs 5000. The names of these hotels are given below:
Hotel Mahadev Regency
Shiv Villas Hotel
Hotel Kalyan
Hotel Milan Palace
Hotel Arco Palace
Ginger Hotel
Hotel Leisure Inn Grand Chanakya
Hotel Metropolitan
Jaipur Hotel Stay
Hotel Chandra Villas
Also Read: All Hotels in Jaipur
Restaurants Near Bus Stand of Jaipur(Sindhi Camp)
Refreshments are required along with traveling. In such a situation, it is necessary that there is a good arrangement of food in the budget of the people. In such a situation, there are many restaurants that provide delicious dishes on a very low budget. All these restaurants are just a short walk from the Sindhi Camp Bus Stand where you can go on foot or by taxi or cab. In these restaurants, you can get a variety of favorite food including Continental, Chinese, Fast Food, North Indian, and South Indian. The names of these restaurants are given below:
Kanha Restaurant – E-62, Bhagat Singh Marg, C Scheme, Jaipur, Rajasthan 302001
Rawat Misthan Bhandar*- Station Rd, in front of Polo Victory Hotel, Sindhi Camp, Jaipur, Rajasthan 302001
The Thali House* – 80/21-22 Opposite SBI Bank, Patel Marg, Mansarovar, Jaipur, Rajasthan 302020
Mohan Restaurant – 14, Motilal Atal Rd, opp. Neelam Restaurant, Sindhi Camp, Jaipur, Rajasthan 302001
Rajasthani Thali Wala – Station Rd, Opp. Central, Shri Ram Colony, Sindhi Camp, Jaipur, Rajasthan 302016
Santosh Bhojanalaya – Dada Bari Rd, Near Over Bridge, Vivek Nagar, Kanti Nagar, Sindhi Camp, Jaipur, Rajasthan 302006
Gulab Ji Chai Wale – 417, MI Road, Nirmal Vihar, Sindhi Camp, Jaipur, Rajasthan 302001
Jaipur Adda – 4-D Villa, Khasa Kothi Circle, Station Rd, Jaipur, Rajasthan 302001
Talk of the Town – B-5, Mirza Ismail Road Khasa Koti Circle, Jaipur, Rajasthan 302001
Pizza Hut – D-Block, Malviya Nagar, Jaipur, Rajasthan 302017
Must Read: Best Retaurants in Jaipur
Also Read: Government Jobs in Jaipur
If You Like this Article on Bus Stand of Jaipur Please Share your Freinds and Family to Help Them