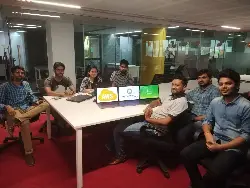 All about InfoObjects Inc Jaipur- timing, address, phone number
InfoObjects Inc. Jaipur ( A CMMI Level 5 Certified company) is a US-based IT Company with the Global Excellence Centre at San Jose, California, USA, and the Development Centre in Jaipur, Rajasthan (India). InfoObjects was incorporated in 2005 to provide software engineering services focussed on cutting-edge database middleware and web-tier application development. The company has expertise in BigData and its technologies (Spark and Kafka), Blockchain technologies, Data Engineering and Analytics, Data Science (ML & AI), DevOps, IOT, and Cloud Native.
We are an official partner with AWS, SAP, Databricks, GCP, and many more. We are proud of our awards for Best Place to Work in the Bay Area by the San Francisco Business Times and Silicon Valley Business Journal for consecutive years. Our US-based consultants and the Jaipur development organization are growing rapidly because of the opportunities for personal and professional growth we offer our team members. Known for our intensive technical education and training (especially in Java and the Hadoop ecosystem), we have been an INC 5000 fastest-growing company for the last 3 years running and ranked no. 22 in Silicon Valley last year. We have offices in Canada, Mexico, Dubai, Singapore, and San Francisco.
If you like this article on InfoObjects Inc Jaipur then share it with your friends and family members to appreciate our work and help them.
Contact Information
E-5, Patrika Building, Jhalana, Institutional Area, Jhalana Marg, Jaipur, Rajasthan 302017
All about InfoObjects Inc Jaipur- timing, address, phone number
0 reviews
Write Your Review
There are no reviews yet.