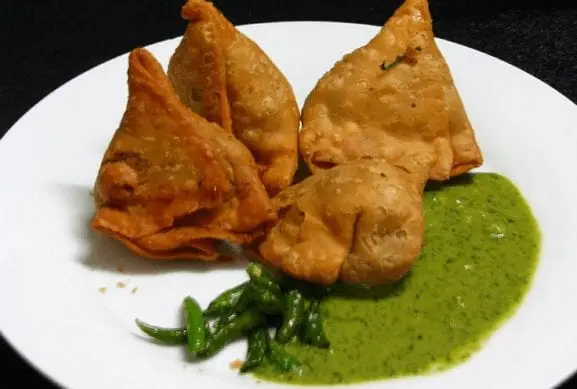 How to make Samosa Recipe with step by step
Samosa is popular street food in India, in which its outer (crispy) crunchy crust is made of fine flour and the inside is full of boiled potatoes, peas, and spices. It is a favorite snack of all ages and is usually served in the evening breakfast with masala tea, tamarind chutney, and mint chutney. You can make it more or less spicy and sour according to your choice. So let us learn today how to make samosa at home with the help of step by step recipe given below and if you want to make samosas for the guests in advance, then do not forget to check the suggestion department.
You can use green peas, frozen peas, or dry peas as per the availability.
What are the diffrent Ingredients are use to make Samosa you can easily Find all the Ingredients
Ingredients For Outer Crisp Cover:
1½ cups Maida Flour
1 teaspoon Carom Seeds (ajwain)
3 tablespoons Ghee/Oil
Salt to taste
Ingredients For Stuffing:
3 medium Potatoes
1/2 cup Green Peas (mutter)
1/2 teaspoon Cumin Seeds (jeera)
1 tablespoon Green Chilli-Ginger Paste
1/2 teaspoon Red Chilli Powder (lal mirch)
1 teaspoon Coriander Powder
1/2 teaspoon Garam Masala Powder
1 teaspoon Dry Mango Powder (aamchur)/ Lemon Juice
1 teaspoon Fennel Seeds Powder (saunf powder)
5-6 Mint Leaves, chopped, optional
2 tablespoons finely chopped Coriander Leaves
Salt to taste
2 tablespoons + for deep frying Oil
If you are using frozen peas then there is no need to boil them. If you are using green peas then boil it with potatoes. If you are using dried peas, soak it in water for 5-6 hours and then boil it with potatoes.
1. Boil the green peas and potatoes in a pressure cooker by adding salt and water until they become soft or cook until they are soft in steam. After boiling, take it out in a large sieve to remove excess water from it. Peel the potatoes and mash them lightly or cut them into small pieces.
2. When the potatoes are cooking then knead the dough for the outer layer of the samosas. Take maida, celery, 3 tablespoons ghee (or oil), and salt in a bowl.
3. Mix them well. After that, you add a little water in the mixture and knead a little hard dough (slightly harder than paratha flour). To set the dough, cover it with a wet muslin cloth or a plate for 15-20 minutes.
4. Now we start making spices to fill in the samosa. Heat 2 tbsp of oil in a pan on medium heat. Add cumin and green chili-ginger paste and fry for a minute.
5. Add boiled green peas and fry for 1 minute. Add red chili powder, coriander powder, garam masala powder, mango powder, and fennel powder.
6. Fry for a minute.
7. Add chopped/mashed potatoes and salt (add salt only if you have not added salt at the time of boiling the potatoes).
8. Mix them well and let it cook for 2-3 minutes. Add green coriander and mint leaves and mix well.
9. Turn off the gas and drain the spices in a bowl. Let it cool for a while (a few minutes).
10. After 15-20 minutes, remove the wet cloth and knead the dough until it becomes soft. Divide it into 6 parts and make balls.
11. Take a dough ball and lightly press it between your palms to flatten it. Place it over the chakla and roll it into a round-shaped puri, about 5-6 inches in diameter. Cut it in the middle with a knife.
12. To wet the edge surface of the side where it is cut, apply water with either a brush or wet finger (directly on the edge - shown in the picture).
13. Take a sliced ​​section and bend it with both sides to give it a cone (cone) (a bit of one side comes over the other side) and press both sides to seal it so that Its shape will become like a cone.
14. To maintain its cone shape, add a pea seed.
15. Add 2-3 tablespoons of masala to it. Do not add too much spice or else you will not be able to close the top edges in the next step.
16. Moisten the top edges with a moist finger or a brush and press them firmly with your thumb and finger to seal (close) them. Likewise, make all the samosas.
17. Heat oil in a pan for frying on medium heat. When the oil is medium hot, add 2-3 samosas (more or less, according to the size of the pan) and reduce the heat.
18. If you want to prepare them in advance for the guest when they start to turn light brown then remove them and fry them again until they become golden brown at the time of serving. If you do not want to double fry them, do not remove them from the oil in this step.
19. Fry them on medium-low heat till they turn golden brown. Remove the fried samosas in a plate and serve with green chutney and tomato ketchup.
Suggestions and Variations:
Use samosa making machine to give a good triangle shape.
Do not over-heat them. Fry them on medium-low heat. If you want to make samosa in advance (3-4 hours in advance) for the guests, then fry them in oil twice, fry them in step-18 till they turn light brown and then remove from the oil, 2- At the time of serving, again fry them till they turn golden brown.
To make Punjabi samosa, add finely chopped onion and paneer to the masala.
To make samosa chaat, serve them with ragda (or chickpeas), curd, green chutney, date-tamarind chutney, chopped onion, and sev.
Taste:
Carrara and Spicy
Serving methods:
A samosa can be served with mint chutney or green chutney or date tamarind chutney or tomato chutney. Garnish them with chopped onion, green chutney, date tamarind chutney, sev, and curd and can also be served as a samosa chaat.