Jal mahal FORTS And Palace
Jal Mahal means a water palace, which located in the middle of Man Sagar Lake in the city of Jaipur, Rajasthan.The palace and lake around it were renovated by the king of Amber, Maharaja Jai Singh 2, in the 18th century. Its surface area is about 300 acres. The JAL Mahal palace is an architectural showcase of the Rajput style of architecture on a large scale.It is a five-storied building built up with red sandstones which four floors remain under water. Four elaborate chhatris designed in octagonal shape adorn the four corners of the palace. A huge Bengal-style rectangular chhatri also exists on the roof of the palace. Semi octagonal towers were built with an elegant cupola on each corner of the palace Terrace. Because of waterlogging, It has to suffer partial water oozing, plastered wall damaging which is repaired by a repairing project of the Rajasthan government. The image of Jal mahal in the water looks amazing. The majestic scene makes the palace Jaipur's most photographed monument. The scene of palace is very beautiful in the evening as the entire complex looks like bathed flood lights. The ecosystem of Man Sagar lake is a favorite home for many residential and migratory birds. Hundreds of migratory birds can be seen swimming in winters in the lake. North east part of Jaipur quartzite rock structure, hills around lakes are part of Aravalli hills. Within the lake area, the ground area is made up of a thick mantle of soil, blown sand and alluvium. This palace stands in the middle of the lake that has a maximum depth of 15 feet. Though four floor of the fort are in under water surface.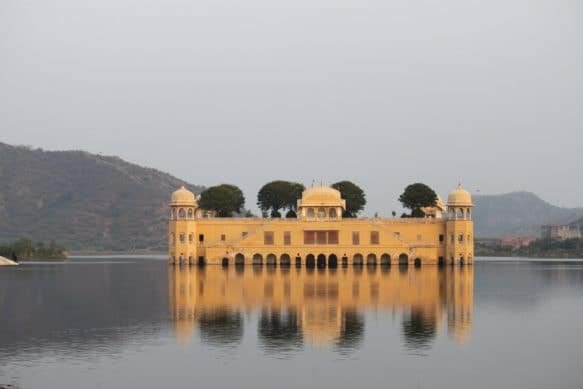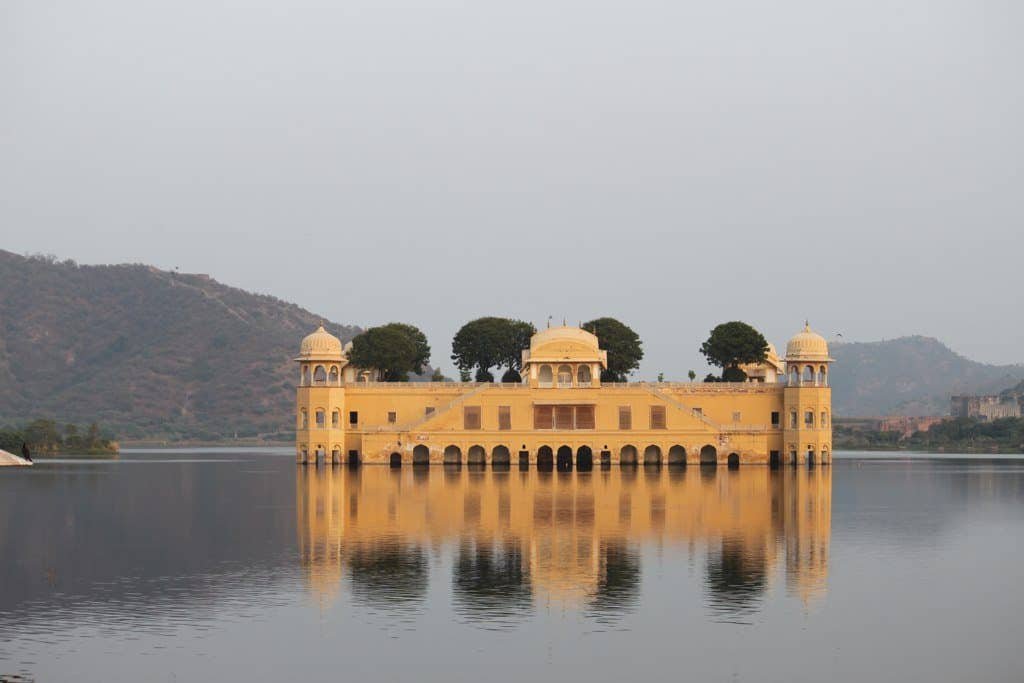 1) Opening and Closing time of Jal Mahal Fort
 Public visiting hours for the fort is 9:00 am to 10:00 pm.But There is no Opening and closing Time
2) Entry fee in Jal Mahal Fort
There is no Entry fee for Jal Mahal
3) How to reach Jal Mahal Fort
(1) Sindhi Camp Bus Stand (10.4 kms via Amer Road)
(2) Durgapura Railway Station (20.5 kms via NH248)
(3) Gandhi Nagar Railway Station (17.8 kms via Amer Road and NH248)
(4) Jaipur Railway Station (11.7 kms via Amer Road)
(5) Jaipur International Airport (22.2 kms via Amer Road and NH248)
4) Parking near Jal Mahal Fort
The Jal Mahal Fort has sufficient Parking for vehicles and bicycles. Discovering paid parking is extremely simple you can find beside fort or on the front gate of fort. Otherwise you can find the free parking near Amer Fort Jaipur.