Amer fort is located in Aamer, Rajasthan, India. Amer is a town with an area of 1.5 sq mi.located 11 kilometers from Jaipur, the capital of Rajasthan. Amer is founded by the ruler of the Chand dynasty, raja Alan Singh in 967 EC. Amer was the capital of Raja Kakil dev in 1036. Most of Amer's recent buildings were started and expanded during the reign of raja Maan Singh1 in the 1600s. The main building in Amer palace is Diwan-i-khash and the involute painted Ganesh pole is built by Mirza Raja Jai Singh1.
Amer fort is known for its artistic architecture, series of gates and labyrinth paths. The fort overlooks Maota Lake, which is the main source of water for the Amer fort. It is built with red sandstone and marble. The palace was the residence of Maharajas of Rajput and their belongings. 
This palace is situated along with Jaigarh palace, in Eagle's hills of aaravali mountain. Both of these are known as complex because their terrestrial paths are connected with each other. 
It was declared by supergiant officers of archeological and museum department that annual tourist visitors to Amer fort per year is about 1.4 million and per day is about 5000, in 2007. 
It is declared as a UNESCO world heritage site along with other five hill forts of Rajasthan, in the 37th session of the world heritage committee held in Cambodia , in 2013.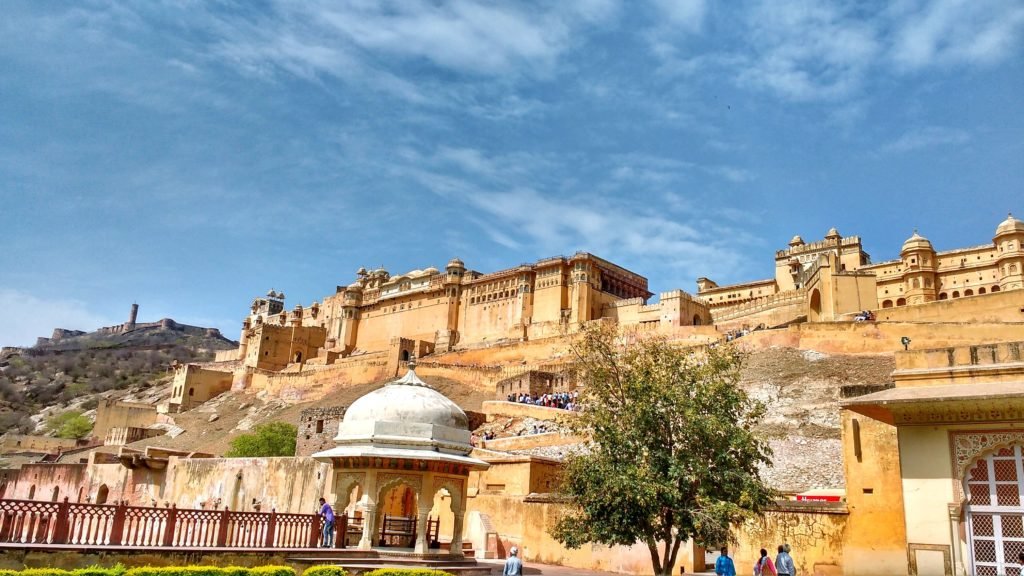 1) Opening and Closing time of Amer Fort
 Public visiting hours for the fort is 9:00 am to 5:00 pm. 8am-5:30pm and 6:30pm-9:15pm
2) Entry fee in Amer Fort
 Entry fee for Indian is INR 200 and INR 500 for foreigners. 
3) How to reach Amer Fort
(1) Sindhi Camp Bus Stand (10.4 kms via Amer Road)
(2) Durgapura Railway Station (20.5 kms via NH248)
(3) Gandhi Nagar Railway Station (17.8 kms via Amer Road and NH248)
(4) Jaipur Railway Station (11.7 kms via Amer Road)
(5) Jaipur International Airport (22.2 kms via Amer Road and NH248)
4) Parking near Amer Fort
The Amer Fort has sufficient Parking for vehicles and bicycles. Discovering paid parking is extremely simple you can find beside fort or on the front gate of fort. Otherwise you can find the free parking near Amer Fort Jaipur.